Person of interest sought after ex-Playboy model strangled in Pennsylvania home
Authorities in the suburbs in Philadelphia are searching for a person of interest in the murder of a former Playboy playmate discovered strangled inside her apartment.
The Montgomery County District Attorney's Office released surveillance video and photos on Monday of a man described as a "person of interest" in the slaying of 36-year-old Christina Carlin-Kraft.
Carlin-Kraft was found dead on Wednesday in the bedroom of her condo in the upscale suburb of Ardmore, located just west of Philadelphia. Her cause of death was ruled "ligature strangulation."
The DA's office said the 36-year-old was seen on surveillance video in Philadelphia early Wednesday walking with the man, who was wearing a black jacket with white head covering.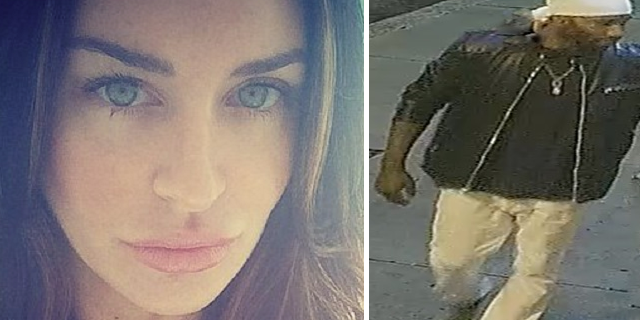 "The male may have also utilized a ridesharing service from the area of 13th and Locust Streets to Sibley Avenue in Ardmore," officials said.
Officials told FOX29 that surveillance cameras caught the man entering the condo complex where Carlin-Kraft lived, but he's never seen leaving, possibly escaping through a balcony.
BODY OF EX-PLAYBOY MODEL FOUND STRANGLED IN HOME, POLICE SAY
The 36-year-old's body was found hours later after a welfare check by police.
The murder happened near a popular upscale shopping center, causing residents to fear the killer is still out there five days later.
"I'm afraid, I left the city for that reason. Because of the crime. So definitely here it makes us worry," Ardmore resident Nancy Klinghoffer told FOX29.
The one-time Playboy model had at least one minor brush with the law, according to court papers. In 2016 Carlin-Kraft assaulted a waiter at an upscale Manhattan restaurant, the New York Post reported. Carlin-Kraft was charged with misdemeanor assault, attempted assault and harassment. Prosecutors later dismissed the charges.
Anyone with information regarding the identity of the person of interest or knowledge of a rideshare transport he took is asked to contact the Lower Merion Police Department at 610-649-1000 or the Montgomery County Detective Bureau at 610-278-3368.
Fox News' Bradford Betz contributed to this report.