People splash in pools, fountains as Southwest US heats up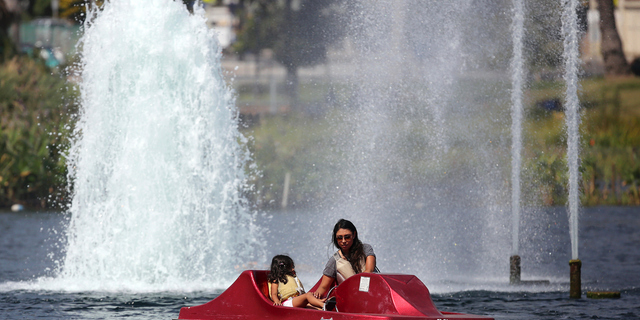 NEWYou can now listen to Fox News articles!
LOS ANGELES – A heat wave blanketing the U.S. Southwest has toppled temperature records, raised wildfire danger and sent residents to pools, beaches and even fountains for cool relief.
The mercury in Utah was expected to remain in triple digits Thursday, a day after Salt Lake City's airport reached a record 105 degrees, the National Weather Service said.
In downtown Los Angeles, kids on vacation from school cooled off in the fountains of Grand Park. Officials warned people to avoid strenuous activity during the day on Friday, when the worst heat was expected across Southern California.
Officials issued red flag warnings for fire danger in Santa Barbara County's mountains and south coast due to dry, hot winds starting Thursday evening.
To the north in the Sierra Nevada, fire warnings were in effect from Sequoia to Yosemite, while flood warnings due to snowmelt are posted in northern Mono County in California and southern Lyon County in Nevada.
Excessive heat warnings were also in place in Arizona, where temperatures in Phoenix could hit 117 (47 Celsius) Friday. That's only a few degrees less than the record-breaking heat that baked the state last month.
Las Vegas, where the mercury could hit 113 degrees (45 degrees Celsius) during the day Friday, won't get much of a release at night, said weather service meteorologist Chelsea Kryston. Overnight temperatures will linger at around 90 (32 Celsius).
The heat building into the weekend results from high pressure over the desert.
Spiking temperatures will be accompanied by more moisture moving up from Mexico that could add humidity to the heat wave in some areas.