Pennsylvania pit bull dead after allegedly being buried in locked cage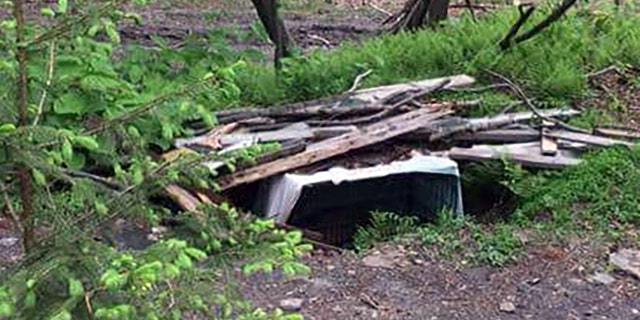 A dog reportedly died after being buried in a locked cage in the woods in Pennsylvania and a local animal shelter is "seeking justice" for the "torturing act."
Animal cruelty officers located the pit bull after someone called in to the Ruth Steinert Memorial SPCA, WNEP reported.
"Whoever did this went to great effort and was sick," SPCA manager Lori Sult told the outlet. "They basically built a torture chamber for this dog."
MAN SHOUTING 'ALLAHU AKBAR' STABS POLICE DOG TO DEATH, COPS SAY
Bridget Barder, an animal cruelty officer, reportedly described the scene as "horrid" and "barbaric."
The animal shelter took to Facebook Tuesday to post about the "heartless" act.
"We are still in shock over this heartless, barbaric, sick, torturing act," the shelter wrote. "This poor dog was locked in a crate shoved down a hole with blankets and wood covering the crate PURPOSELY left to die in a wooded area in Heckshersville."
MAINE FIREFIGHTER GETS 'THANK YOU' KISSES FROM DOG HE RESCUED FROM ROOF
They said they were "seeking justice for this poor baby" and urged anyone with information to get in touch with the Frackville State Police.
A link to a GoFundMe account was also provided on the shelter's Facebook post, saying it was created to help raise money for a reward for any details "that can lead to the prosecution of the person (s) responsible for the intentional torture to the sweet brindle pittie we have named Thomaston."
Employees of the shelter believe the animal was in the conditions for roughly two months and seems to have died of starvation, WNEP reported.