A man who confessed to killing four men who disappeared last week in Pennsylvania's Bucks County and his suspected co-conspirator were hit with homicide charges Friday as gruesome details emerged surrounding the deaths.
The charges comes on the heels of Cosmo DiNardo's attorney saying that his client admitted to killing the four men and telling authorities the location of the bodies buried on a farm property in Solebury, Pa., owned by DiNardo's family.
"We have so much more to do to bring justice in this case," Bucks County District Attorney Matthew Weintraub told reporters Friday. "I am very relieved to say we brought four young men one step closer to their loved ones so they can rest in peace."
After killing the men, DiNardo confessed to burning the bodies in a metal tank that was converted into a cooker that he labeled a "pig roaster," according to The Daily Mail.
DiNardo, 20, is charged with all four homicides and 20 other counts, including abuse of corpse, conspiracy and robbery, according to court documents. Sean Kratz, 20, faces 20 counts, including three of criminal homicide.
POSSIBLE HUMAN REMAINS FOUND IN POLICE CHIEF'S MURDER
A source who spoke to The Associated Press on the condition of anonymity because he wasn't authorized to publicly discuss details of the case said the men – identified by officials as Dean Finocchiaro, 19, Mark Sturgis, 22, Tom Meo, 21, and Jimi Taro Patrick, 19 -- were killed after DiNardo felt cheated or threatened during three drug transactions. DiNardo sold quarter-pound quantities of marijuana for several thousand dollars and sold handguns to area residents, the person said.
"We are not here to make moral judgments on any of their actions," Weintraub said Friday. "They have done nothing to deserve this horrible, unspeakable tragedy that has been beset upon them."
Kratz allegedly shot Finocchiaro. DiNardo then continued to shoot at his body after he had died, The Daily Mail said. Finocchiaro's body was then placed in a blue tarp and he was tossed into the pig roaster.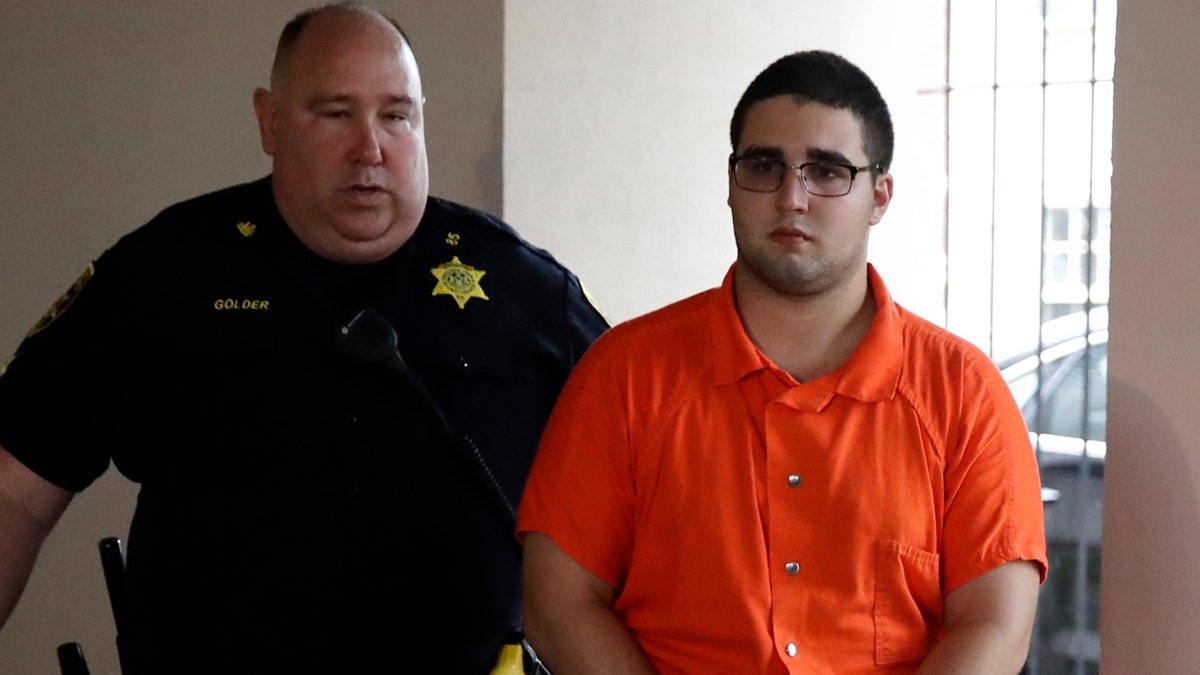 During a deal to sell marijuana later in the night to Meo and Sturgis, DiNardo shot Meo, The Daily Mail said. Sturgis then attempted to run away, prompting DiNardo to shoot him until he ran out of ammunition. He then drove over Meo, who may have still been alive at that point, with a backhoe.
Kratz told police that DiNardo "basically crushed" Meo with the backhoe. DiNardo then used the same backhoe to transport the bodies. The men then dropped the bodies into the roaster, added gasoline and set it on fire.
Weintraub said the bodies of Meo, Finocchiaro and Sturgis were found buried 12 feet deep in one common grave. The remains of Patrick were recovered from a separate location on the farm.
The person with knowledge of the confession said one of the men was killed July 5 and the other three were killed July 7.
SHOCK AS TEENS ARRESTED FOR ALLEGED SEX ASSAULT THAT THOUSANDS WATCHED ON FACEBOOK LIVE
"Every death was related to a purported drug transaction, and at the end of each one there's a killing," the person said.
In a criminal complaint, DiNardo told authorities that he had agreed to sell Patrick four pounds of marijuana for $8,000 and had picked him up at his home in Newtown before driving him to the farm. He said Patrick only showed up with $800 and they walked to a remote part of the property where DiNardo blasted Patrick with a .22 caliber rifle, The Morning Call reported.
Using a backhoe, DiNardo then dug a hole to place Patrick's body into, the complaint said. The body was later found Thursday by investigators.
Authorities had charged DiNardo earlier this year with having a gun despite an involuntary mental health commitment. In seeking $5 million bail on a stolen car charge this week, prosecutors said he had been diagnosed with schizophrenia. He also suffered a head injury in an ATV accident a year ago.
Finocchiaro's aunt, Tina, posted on Facebook that she was "completely crushed, heartbroken and numb," The Morning Call reported.
"I lost my nephew to a crime that is unspeakable," she wrote in a post. "Nobody should have to go through this. My heart goes out to his parents and all of the other parents."
DiNardo's lawyer says his client is remorseful.
"I'm sorry," a shackled DiNardo said as he left a courthouse Thursday.
Kratz's mom, Vanessa, declined to comment on the arrest of her son.
Paul Lang, DiNardo's lawyer, had told reporters Thursday that the 20-year-old was ready to plead guilty to four counts of first-degree murder. Lang said in exchange for the confession, prosecutors agreed to take the death penalty off the table.
Fox News' Travis Fedschun and the Associated Press contributed to this report.