Penn Station stampede: 16 injured in chaos amid false reports of gun shots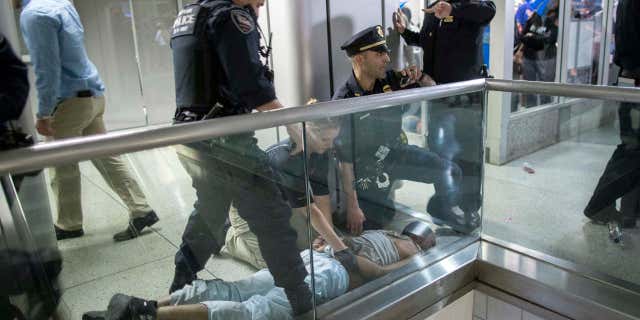 Sixteen were injured at New York's Penn Station during a stampede sparked when Amtrak police used a stun gun to subdue a disruptive man amid the disarray of a train with about 1,200 passengers stuck in a tunnel between New York and New Jersey for nearly three hours on Friday.
The New Jersey Transit train became disabled in the Hudson River tunnel late Friday afternoon, when Amtrak was experiencing overhead power problems. A New Jersey Transit spokeswoman said the train finally reached New York's Penn Station in the early evening.
Meanwhile, the overcrowded train station erupted in panic when Amtrak police used a Taser to subdue a man who was causing a disturbance. New York police said the use of the Taser led to false rumors of gunshots at the station.
People screamed and ran, leaving the station strewn with abandoned bags. The nearby Macy's department store was briefly locked down.
Amtrak said Friday night the subdued man was in police custody.
The loss of power in the tunnel caused delays of an hour or more on Amtrak and New Jersey Transit. It happened three weeks after the derailment of an Amtrak train at Penn Station and a week after a New Jersey Transit derailment shut down eight of 21 tracks there and disrupted travel in the region for days. No injuries were reported in any of the incidents.
Mia Sanati, a passenger on the train, said shortly after the train entered the tunnel to go under the Hudson River, they felt a bump on the side of the train and saw sparks.
"About 30 seconds later, the train just came to a complete stop," Sanati said.
The power went out, except for emergency lights, and so did the air conditioning, said Sanati, who made video of the darkened car.
Rush hour passengers trying to leave New York faced mounting delays.
Adam Rosen, a chemical engineer going to Hamilton, New Jersey, said, "They keep extending the delays from 45 minutes to 90 minutes and now indefinitely. This is the worst."
New Jersey Transit executive director Steven Santoro said in a statement to affected riders, "We deeply apologize for your experience, and I would like to hear from you."
NJ Transit spokeswoman Nancy Snyder said the railroad was working with Amtrak to determine the cause of the problem.
The Associated Press contributed to this report.