Penn State Trustees Make Paterno Firing Official in Brief Conference Call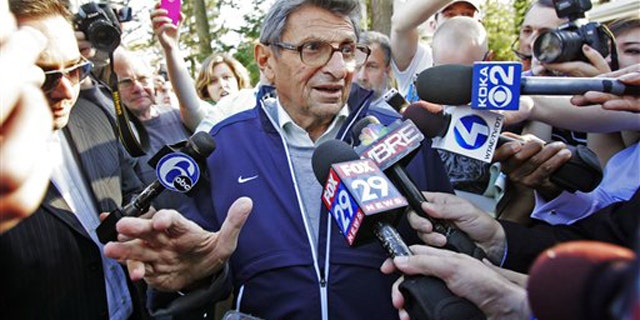 STATE COLLEGE, Pa. – Joe Paterno's 46-year career as Penn State football coach ended, officially, in a four-minute conference call Friday.
Paterno, who turns 85 on Dec. 21, was dismissed from his long-held post last month in the wake of child sex abuse allegations against his former assistant Jerry Sandusky.
The executive committee of Penn State University's board of trustees met Friday morning to ratify his departure in a brief meeting.
The members also confirmed the resignation of university president Graham Spanier last month and reaffirmed the installation of Rodney Erickson as his successor. The unanimous votes took four minutes.
Though Spanier has been ousted from his position he remains on tenure -- and he's still living in the president's house on Penn State's University Park campus. He has been given 75 days to vacate the house, but nobody attending the meeting Friday morning was able to say when that time period began.
"As I understand it, Graham Spanier retained his tenured position at the university. He would be permitted to go on sabbatical and come back in a year and teach, if he has the interest in doing so," said Bill Mahon, vice president of University Relations.
"I haven't talked to him about those particulars ... as I understand it, he's going on sabbatical."
Paterno's daughter, Mary Kay Paterno, asked several questions about local executive members of the committee failing to attend Friday's meeting in person, The Harrisburg Patriot-News reported.
University spokeswoman Lisa Powers said that people with the Department of Education have been on campus all week conducting interviews and requesting documents. The federal agency is investigating whether the school and its officials complied with federal laws requiring the reporting of sex abuse allegations to authorities.
"On a daily basis they determine what areas they'll go into and who they'd like to speak to," Powers said.
"For the past week they've requested things in the morning and we make it happen."
Friday's meeting followed criticism that the behind-closed-doors votes last month, which sparked a night of rioting on the State College campus, violated Pennsylvania's open-meetings law.
Board president Steve Garban defended the procedures used.
"Due to extraordinary circumstances, the board needed to act swiftly and decisively Nov. 9. We believe that immediate action was necessary, and we stand by those decisions," he said.
Tom Bradley, Paterno's lead assistant on the field for 11 years, was named interim football coach following the high-profile dismissal of his boss.
Newscore contributed to this report.