Penn State trustee calls on board to re-examine Freeh report after Paterno family review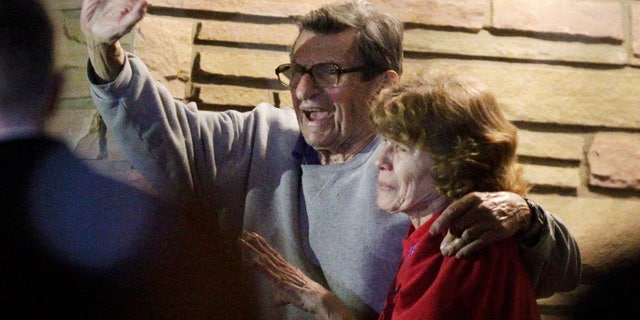 NEWYou can now listen to Fox News articles!
STATE COLLEGE, Pa. – A Penn State trustee has called on the university governing board to re-examine the findings of former FBI director Louis Freeh's school-sanctioned investigation into the Jerry Sandusky child sex abuse scandal.
The critique released this weekend by Joe Paterno's family raised "serious and troubling" questions about Freeh's findings, trustee Alvin Clemens said Monday in a statement.
Former U.S. Attorney General Dick Thornburgh was among the experts brought in by the Paterno family to review the Freeh report, which concluded that Paterno and other university officials covered up allegations against Sandusky to spare the university bad publicity. The family's review said the cover-up claims were inaccurate, were unfounded and equated to a "rush to injustice."
Freeh has defended his work and stood by his findings. He has called the Paterno family's review self-serving and a campaign to shape the late Hall of Fame coach's legacy.
Sandusky, a former assistant coach under Paterno, was convicted of 45 child sex abuse counts. He was sentenced to at least 30 years in prison last fall but still maintains his innocence.
Paterno died in January 2012 at age 85.
The NCAA levied unprecedented sanctions on Penn State less than two weeks after Freeh released his stinging findings in July.
Freeh's firm was hired by the board of trustees to perform "an independent, full and complete investigation of the Sandusky scandal," said Clemens, a trustee since 1995. "In addition to questions about accuracy and fairness, there is little question that the Freeh report is less than complete."
Penn State said Sunday that Freeh was brought in to conduct an independent investigation of the school's response to the allegations, and not actions of entities unrelated to Penn State. Freeh offered 119 recommendations to strengthen governance and compliance, the majority of which have been implemented, the school said.
Freeh's report has never been formally discussed by the board as a whole. At the time of its release in July, trustees said they had accepted responsibility for failures of accountability.
University president Rodney Erickson handled talks with the NCAA over the penalties.
The family offered its response to the Freeh report Sunday, attacking what it called flawed techniques and a lack of evidence.