Penn State Taps Ex-FBI Director for Investigation Into Child Sex-Abuse Allegations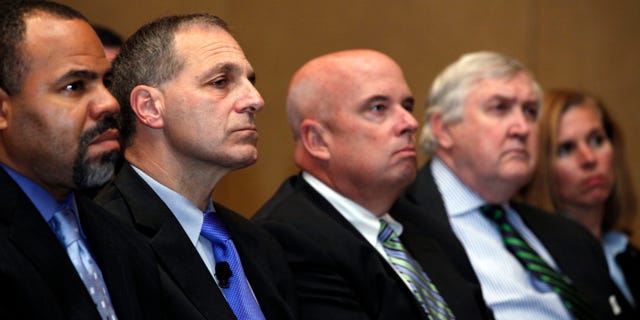 NEWYou can now listen to Fox News articles!
Penn State University's board of trustees tapped former FBI director Louis Freeh Monday to help lead an investigation into the child sexual abuse scandal involving former defensive coordinator Jerry Sandusky.
"The entire Board of Trustees is intent on taking all steps necessary to ensure that our institution never again has to ask whether it did the right thing, or whether or not it could have done more," said trustee Ken Frazier, chairman of the special committee.
"We are committed to leaving no stone unturned to get to the bottom of what happened, who knew what when, and what changes we must make to ensure this doesn't happen again. Therefore, we are pleased that Judge Freeh has agreed to lead a thorough and independent investigative review of this matter."
Frazier, the CEO of pharmaceutical giant Merck, promised a "comprehensive and independent investigation into exactly what happened," and said "no one is above scrutiny."
The committee will review how the university handled the situation and look into whether action should have been taken by university employees to potentially stop the alleged abuse from continuing.
"The allegations that have been raised and the charges that have been brought are extraordinarily serious. ... We will immediately report any instances of criminality to appropriate law enforcement authorities," Freeh said, adding that any more suspected victims that are identified will be reported to police.
Freeh said the probe will be broad and last for a lengthy period before the committee submits its findings and recommendations to the trustees. The university also created a toll-free hotline for people to call with information about the case.
Freeh, a former federal judge and U.S. attorney, served as FBI director under President Bill Clinton from 1993 to 2001.
Retired Air Force Col. and astronaut Guion Bluford, a Penn State alum will also be on the special committee.
Sandusky, 67, is accused in a 40-count indictment of sexually abusing eight boys over a 15-year period. He has maintained his innocence since his arrest Nov. 5.
Two former university officials -- athletic director Tim Curley and VP of finance Gary Schultz -- are facing perjury charges for lying to a grand jury about their knowledge of Sandusky's alleged abuse.
Legendary football coach Joe Paterno was fired after he failed to notify police about an alleged incident reported to him in 2002 by assistant coach Mike McQueary.
McQueary, a 28-year-old graduate assistant at the time, testified that he saw Sandusky sexually assaulting a young boy in the Penn State locker room shower. Paterno notified Curley, as he was legally required to do, but the allegations never reached police.
Sandusky's attorney has repeatedly denied McQueary's allegation, saying that he believes he has identified the alleged victim and claims he will testify the assault never happened.
McQueary contended last week that he did report the abuse to police, which contradicts the grand jury report. So far, no police department has corroborated McQueary's claim.
Newscore contributed to this report.
Click here for more on this story from MyFoxPhilly.com