Pence says Trump monitoring Hurricane Irma '24/7'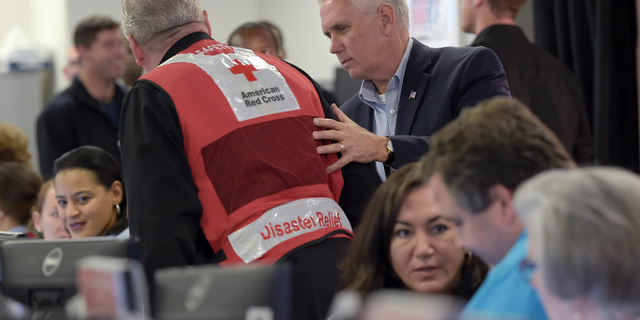 WASHINGTON – President Donald Trump received a "comprehensive update" Sunday on Hurricane Irma after the storm hit the Florida Keys, the White House said, and Vice President Mike Pence urged those in the storm's path to "heed the warnings" of local officials.
Trump, Pence and several Cabinet members participated in the briefing from Camp David, the presidential retreat in Maryland where Trump spent the weekend monitoring Irma. Other officials dialed in from the White House or Federal Emergency Management Agency headquarters.
Pence and the Cabinet secretaries later visited FEMA headquarters.
"The people of Florida need to know that our hearts and our prayers and all of our efforts are with them and will be with them until this storm passes," the vice president said. He said Irma was dangerous and life-threatening.
"It's enormously important that every American in the path of this storm take the warnings of state and local officials to heart," Pence said.
Pence said Trump, who was returning to the White House later Sunday, has been tracking the storm "24/7."
The White House said Trump's briefing included an update on Irma's status, forecasted path, evacuations and preparations for response and recovery. He thanked FEMA and the Homeland Security Department, which oversees the agency, for their efforts.
Trump also encouraged officials to also stay focused on recovery efforts in southeast Texas following Hurricane Harvey, which caused severe flooding in Houston and surrounding areas after it made landfall in late August.
Trump also spoke with the governors of Alabama, Georgia, South Carolina and Tennessee — four states in Irma's path. The National Weather Service on Sunday issued a first-ever tropical storm warning for Atlanta,
Florida Gov. Rick Scott said he also talked with Trump on Sunday and the president "said he was saying prayers for us," Scott told CBS' "Face the Nation."
Elaine Duke, acting head of the Homeland Security Department, expressed confidence that the federal government can simultaneously manage the aftermath of Irma and Harvey.
"I know we're ready and I know we're responding to both hurricanes at the same time," Duke said at FEMA headquarters. "I don't have any doubt in my mind that we can support both governors and that as a federal government we can do this and will do this."
Duke said she and Brock Long, the FEMA administrator, spoke earlier Sunday with Trump and Pence, and that both were "absolutely pleased with the response."
___
HURRICANE NEWSLETTER - Get the best of the AP's all-formats reporting on Irma and Harvey in your inbox: http://apne.ws/ahYQGtb
___
Follow Darlene Superville on Twitter: http://www.twitter.com/dsupervilleap