Paterno may have known of Sandusky abuse in 1976, unsealed testimony suggests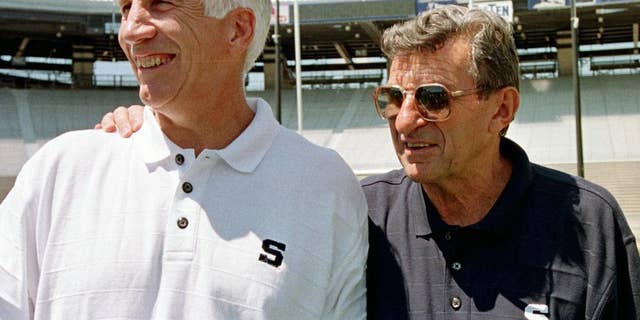 NEWYou can now listen to Fox News articles!
Newly unsealed documents reveal that disgraced former Penn State football coach Joe Paterno may have known about then-assistant coach Jerry Sandusky's sexual abuse of children as early as 1976, but didn't do anything about it so he could focus on his team.
Philadelphia Judge Gary Glazer on Tuesday unsealed the 2014 testimony of a man identified in court records as John Doe 150, who claims he told Paterno of Sandusky's abuse but Paterno refused to get involved.
Before Paterno died in 2012, he told a newspaper the first inkling he had that Sandusky was abusing children came in 2001, when assistant coach Mike McQueary complained about seeing Sandusky in a team shower with a boy.
"Is it accurate that Coach Paterno quickly said to you, 'I don't want to hear about any of that kind of stuff, I have a football season to worry about?'" John Doe 150's lawyer asked, according to court documents.
John Doe 150 replied: "Specifically. Yes... I was shocked, disappointed, offended. I was insulted... I said, 'Is that all you're going to do? You're not going to do anything else?'"
Paterno then allegedly walked away.
John Doe 150 was 14 years old at the time of the alleged incident and said Sandusky sexually violated him in a shower one day at a Penn State football camp.
The new records, part of an insurance lawsuit, also show that some Penn State assistant coaches claimed to have seen "inappropriate contact" and "sexual contact" between Sandusky and a child in 1987 and 1988.
At least one of those alleged instances was reported to a Penn State athletic director, but Glazer said there was "no evidence that reports of these incidents ever went further up the chain of command at PSU."
McQueary said in a 2015 deposition that former defensive coordinator Tom Bradley was "not shocked" when told of it, according to the newly unsealed documents.
Bradley, who briefly took over as head coach after Paterno's firing, "said he knew of some things" about Sandusky dating to the 1980s, McQueary testified.
A lawyer for Bradley, now a coach at UCLA, said they're reviewing the court documents.
McQueary said Bradley told him that he'd been approached by someone in the '80s who saw Sandusky "doing something to a boy" and that in the '90s, former assistant coach Greg Schiano saw Sandusky in the shower with a boy.
"Greg had come into his office white as a ghost and said he just saw Jerry doing something to a boy in the shower," McQueary testified.
Schiano is now the defensive coordinator at Ohio State. He didn't reply to an email seeking comment.
Sandusky's lawyer has denied the allegations, but the ex-coach, now 72, is serving 30 to 60 years on a 45-count child molestation conviction from 2012.
Pennsylvania Manufacturers Association Insurance sued Penn State for $60 million seeking to stop reimbursing the school over settlement payments. The insurance group argues Penn State was required to report the incidents surrounding Sandusky.
Penn State said in a statement that any "speculation" about who knew what and when they may have known it "serves to drive a wedge within the Penn State community."
The statement continued, "Although settlements have been reached, it also is important to reiterate that the alleged knowledge of former Penn State employees is not proven, and should be treated as such."
The Associated Press contributed to this report.