Parts of Yosemite National Park closed 'indefinitely' by raging Ferguson fire in California
Parts of Yosemite National Park will be closed "indefinitely" due to ongoing wildfires in and around the scenic valley, the National Park Service said Sunday.
The closures include Yosemite Valley, El Portal Road, Wawona Road, Big Oak Flat Road, Glacier Point, the Mariposa Grove of Giant Sequoias, the Merced Grove of Giant Sequoias, Wawona Campground, Crane Flat Campground and Tamarack Campground.
"Fire managers are continuously assessing conditions in the area and will work directly with and will immediately advise park managers as conditions change and it becomes safe to reopen," the National Park Service said in a statement.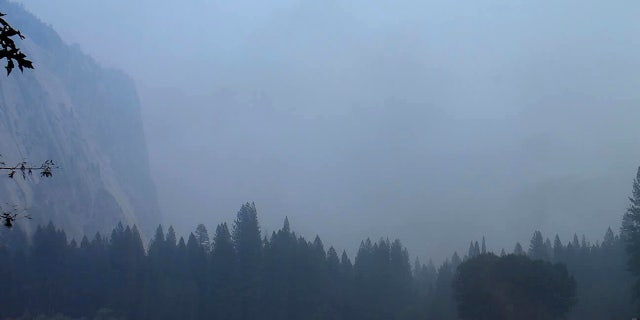 As of Sunday, the Ferguson fire had burned 89,633 acres and was 38 percent contained. It is one of 18 major fires burning throughout the Golden State and its smoke has filled the Yosemite Valley, blocking views of El Capitan and Half Dome in addition to Yosemite Falls.
"In talking to people, no one has ever seen the smoke this heavy," park spokesman Scott Gediman told the Los Angeles Times.
On Friday, evacuations were ordered due to "multiple hazards" along several roads in addition to power outages in Yosemite Valley. Two firefighters have died so far battling the blaze.
Ferguson Fire officials told FOX26 that all the power in Yosemite Valley was out, and there was no way for park employees to keep food or filter air due to the outages.
CARR FIRE CLAIMS 7TH DEATH IN CALIFORNIA AS FIREFIGHTERS BATTLE FIRESTORM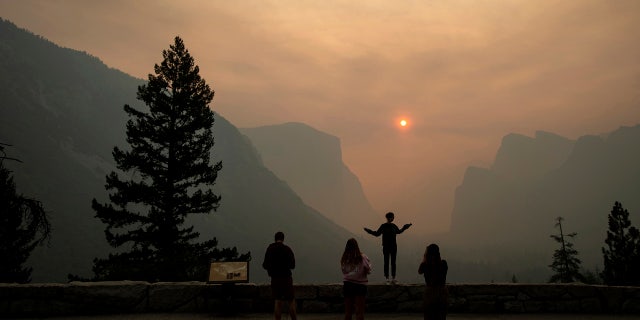 Most of the park's signature attractions in the valley have been obscured by a choking haze for days, although shifting winds means the pollution levels and visual clarity changes throughout the day, according to Pete Lahm, an air resource specialist for the U.S. Forest Service, which is running the Wildland Fire Air Quality Response Program. Yosemite officials are referring visitors to the program's website to check pollution levels.
"The whole park at this juncture has been hammered in smoke," Lahm told the Associated press. "This area definitely has the highest levels (of air pollution) in the U.S. right now," he said, adding that other parts of Northern California and southern Oregon were also at unhealthy levels due to wildfires.
The Environmental Protection Agency's "Air Now" website on Friday recorded the Air Quality Index in Yosemite at a staggering 386, or "hazardous" — higher than the smog-choked city of Beijing, which had an "unhealthy" AQI of 119 at the same time.
Officials note that the AQI changes throughout the day and that the pollution from industrial dust, cars and emissions is different than wildfires burning through trees and grass but still unhealthy. On Sunday, the quality shifted back down to "unhealthy."
'FIRE TORNADO' REACHED 143 MPH AS IT CAUSED PATH OF DESTRUCTION IN SCORCHED CALIFORNIA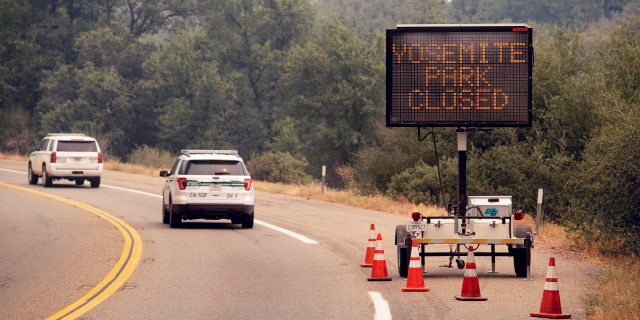 Not all of the park is closed; roughly the northern third of Yosemite has remained open. But officials say it is Yosemite's longest and most extensive closure since 1997, when floods shut the park for two months.
For visitors who wanted to enjoy the iconic sights during the busy summer vacation season, the closures have dealt a blow to any plans.
"I'm totally gutted we can't visit Yosemite," British tourist Caroline Lansell told the AP, who was on a summer vacation to California with her husband and two children.
Fox News' Samuel Chamberlain and The Associated Press contributed to this report.