Paraglider prompts sky chase in California after jail flyover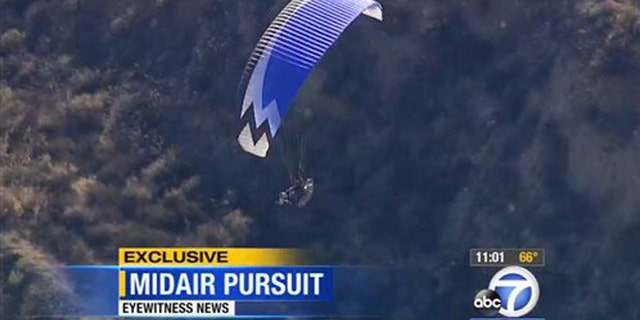 NEWYou can now listen to Fox News articles!
CASTAIC, Calif. – A midair traffic stop? Almost, as a Los Angeles County Sheriff's helicopter pursued a powered paraglider that had just flown past a jail, raising concern.
A member of the sheriff's flight crew recorded on video the brief chase that took place when the man in the paraglider flew near Los Angeles County's Pitchess Detention Center on Monday.
Jail deputies saw the fly-by and the helicopter began following him. He at first didn't obey orders to stop, but landed a few minutes later near a paintball playing field.
"At first I thought they were just looky-loos, just trying to investigate the sport, but I figured when they cut in front of me twice, I'd better turn around and land," Ron Nagin, the paraglider pilot, told KABC-TV.
A sheriff's statement said Nagin was very apologetic and said he hadn't heard them because of the loud motor at his back. He said the winds took him near the jail.
Authorities said they were still investigating, but the man had no contraband, was not spotted dropping anything and was not arrested or cited.