Palm Sunday procession marks start of Holy Week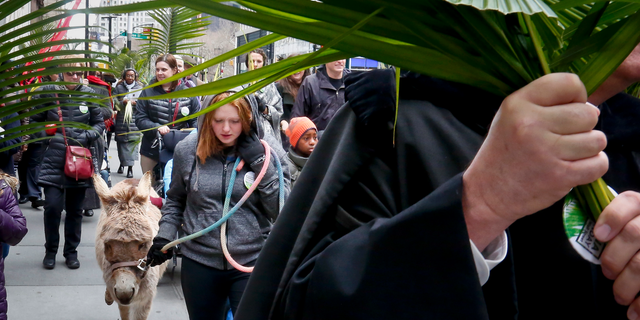 NEW YORK – Christians marking the start of Holy Week sang as they marched in a processional on lower Manhattan on Palm Sunday.
Palm Sunday is the start of Holy Week, which recounts Jesus' entrance in Jerusalem, his crucifixion and resurrection on Easter Sunday.
The promenade started at St. Paul's Chapel and made its way down Broadway to end at Trinity Church. At the head of the parade, a number of children walked next to a donkey, representing the animal Jesus rode into Jerusalem.
Those in the promenade carried giant palm fronds, as well as smaller palm shoots tied in the form of crosses.