Painting of crucified Santa Claus outside St. Patrick's Cathedral draws outrage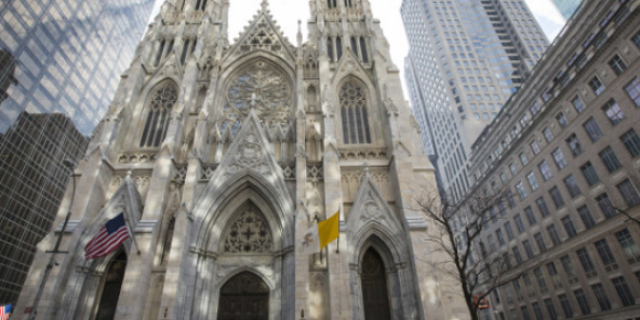 Christmas revelers in New York City were shockingly greeted with painting of a crucified Santa Claus outside St. Patrick's Cathedral on Sunday.
Robert Cenedella's piece shows Santa hanging on a cross with wrapped presents at his feet. Cenedella had moved the painting to Fifth Avenue in Manhattan, outside the cathedral, after it was removed from a Manhattan gallery, the New York Post reported.
People walking past the cathedral were not happy to see St. Nick depicted that way.
"It's a disturbing image — that's the bottom line," Theresa Manly, a North Carolina native, told the New York Post. "I can't imagine how whoever painted this abomination. All he's doing is being a grinch."
New York City Councilman Joe Borelli, R-Staten Island, said Cenedella's painting threatened to ruin Christmas.
"You have to be a real piece of crap to try to ruin Christmas for children and families coming out of Mass," he said. "For shame!"
Cenedella responded to the criticism, telling the newspaper the painting "has been considered controversial from the outset but for the wrong reasons."
He explained that his painting was more of a metaphor about "how commercialism has really taken over what's one of the more religious events in history."
Cendella told the New York Daily News that despite the negative response to the painting, he was still encouraged.
"This is typical New York," he said. "It's being taken better here than at the gallery."