Package bomb suspect Cesar Sayoc kept hit list, reports say
The man suspected of sending more than a dozen pipe bombs to prominent Democrats and other critics of President Trump kept a list of what officials believe were his intended targets, The Associated Press and New York Post reported Monday.
The Post report, which cited law enforcement sources, said 56-year-old Cesar Sayoc's list had "hundreds" of names on it. The paper also reported that Sayoc was mailing out suspicious packages as late as this past Thursday, the day before he was arrested outside an auto parts store in Plantation, Fla. Consequently, the paper reported that more bombs may be making their way through the postal system and workers have been put on alert to identify them.
"We don't have anything to indicate there are hundreds," said one source, who added that the FBI would warn anyone facing a "credible threat."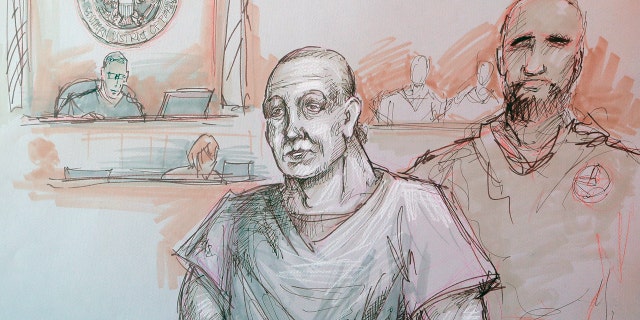 Investigators have said they identified Saroc as the suspect through fingerprint and DNA evidence and a law enforcement official told the AP that investigators had recovered soldering equipment, a printer and stamps similar to those used on the packages that contained the bombs. Investigators said Saroc apparently was assembling the explosive devices in his van, which was plastered with bumper stickers lauding Trump and attacking his opponents, including former President Barack Obama and 2016 Democratic presidential nominee Hillary Clinton.
Sayoc made an initial appearance Monday in Miami federal court, where prosecutors said they will seek to keep Sayoc jailed until trial, calling him a flight risk and a danger to the community. A judge set another hearing for Friday on whether to grant bail to Sayoc and to discuss when he will be sent from Miami to New York, where five federal charges were filed.
One of Sayoc's attorneys, Daniel Aaronson, urged people not to rush to judgment based on media reports.
"Right now, we know very, very, very little," Aaronson said of the case. "We do not know all the evidence the government has. You have to keep in mind he has not been found guilty of anything."
TRUMP, MAINSTREAM MEDIA GET CAUGHT UP IN HIGH-STAKES BLAME GAME
Sayoc, shackled at the wrists and ankles and wearing a tan jail jumpsuit, said little at the hearing but at one point teared up. Aaronson said he did not know what made Sayoc seem emotional.
The onetime stripper, pizza driver and strip club DJ faces up to 48 years in prison if convicted of all charges.
PROTESTERS INTERRUPT MOMENT OF SILENCE FOR SYNAGOGUE SHOOTING VICTIMS
Sayoc is accused of mailing at least 14 pipe bombs to well-known liberal figures and Trump critics, including Obama, Clinton, former Vice President Joe Biden, financier George Soros, actor Robert De Niro, former Attorney General Eric Holder, Rep. Maxine Waters, former intelligence officials John Brennan and James Clapper and Sens. Cory Booker and Kamala Harris. At least some of the packages listed a return address of U.S. Debbie Wasserman Schultz, former chair of the Democratic National Committee.
Also Monday, bomb squads were called to an Atlanta post office about a suspicious mailing to CNN's global headquarters. The FBI said via its Twitter account that the recovered package in Atlanta was "similar in appearance" to others linked to Sayoc, including one addressed to Brennan that forced the evacuation of CNN's New York City bureau in midtown Manhattan.
None of the bombs exploded and no one was hurt.
Click for more from the New York Post.
The Associated Press contributed to this report.