Trump, mainstream media caught up in high-stakes blame game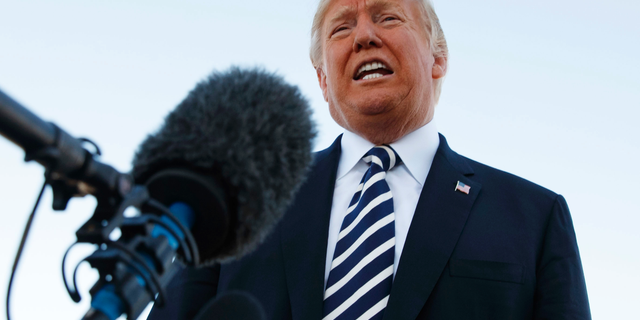 The feud between President Trump and the mainstream media over each other's alleged roles in stoking violence exploded Monday, as the president blasted press "hostility" in an early morning tweet and reporters struck back at an afternoon news conference, asking if the commander-in-chief's rhetoric could lead deranged people to kill over politics.
The back-and-forth bickering between the president and the media is not new, but recent events have raised the stakes in the debate. The suspected gunman in Saturday's attack at Pittsburgh's Tree of Life Synagogue was no Trump supporter, but was anti-Semitic and apparently incensed over immigration policies when he allegedly killed 11 worshipers and wounded six more.
Mail bomb suspect Cesar Sayoc, who police said earlier this month sent more than a dozen bombs – none of which went off – is a Trump "super fan," who drove a van plastered with stickers promoting the president.
The latest events -- as well as the 2017 shooting of Republicans practicing for a baseball game by a Bernie Sanders supporter -- were carried out by troubled individuals. But Trump blames the media and many in the media blame Trump.
"There is great anger in our Country caused in part by inaccurate, and even fraudulent, reporting of the news," Trump tweeted Monday. "The Fake News Media, the true Enemy of the People, must stop the open & obvious hostility & report the news accurately & fairly. That will do much to put out the flame of Anger and Outrage and we will then be able to bring all sides together in Peace and Harmony. Fake News Must End!"
White House Press Secretary Sarah Sanders echoed her boss after noticing a Washington Post front-page headline that said "Trump allies set the tone for the violence." Sanders tweeted an image of the paper with the caption, "Is there any tragedy the Washington Post won't exploit to attack President @realDonaldTrump?"
But the Washington Post isn't the only media outlet to blame Trump for the recent, disturbing attacks. Monday's White House news briefing was filled with questions about the president's rhetoric, which came after a somber moment in which Sanders reminded reporters that Trump has a Jewish daughter and grandchildren.
ABC News' Jonathan Karl kicked off the briefing by asking, "Does he have any concern at all that his words could inspire or provoke troubled people to do awful things?"
Sanders fired back, informing the media that "the very first thing" Trump did was condemn the horrible attack in Pittsburgh and the pipe bombs while "the very first thing the media did was blame the president."
CNN's Jim Acosta then demanded that Sanders say which news organizations are considered "fake news" by the president. Sanders responded by saying it was "irresponsible" for a news organization to blame the president for pipe bombs that were not sent by the president.
CNN Worldwide President Jeff Zucker famously set his network's tone by condemning Trump's rhetoric in a statement on the day his network's New York City headquarters was evacuated because a pipe bomb was discovered in the mailroom.
CNN personalities were accused of blaming Trump on a variety of occasions -- and the network's media relations department's verified Twitter account eventually denied that it blamed the president as being "directly responsible" for the bomb sent to its office.
But now, the network appears to have a similar strategy regarding the synagogue shooting.
"All Monday morning, CNN spent their time blaming President Trump for the horrific synagogue massacre in Pittsburgh by an avowed anti-Semite over the weekend," Media Research Center analyst Kristine Marsh wrote.
However, the blame game extends far beyond just CNN. ABC News' George Stephanopoulos said on Sunday that the "unapologetically incendiary" president is at the center of the situation, while NBC News' Chuck Todd told viewers, "We have a problem and we have a president who doesn't seem to believe he has a role to play in dealing with it."
MSNBC's Rachel Maddow recently claimed that "violent extremist groups" are acting on "behalf of the president." GQ Magazine's Julia Ioffe appeared on MSNBC's "Morning Joe" on Monday to say the synagogue shooting was "an attack on immigrants" that was ignited by Trump's rhetoric.
"[Suspected gunman Robert Gregory Bowers], the flames of his hatred were fanned by a president who kept talking about this caravan of refugees, as if they were terrorists or as if they were coming to commit atrocious crimes in our country," Ioffe said.
Later Monday, Ioffe appeared on CNN and claimed that Trump has "radicalized so many more people than ISIS ever did."
CNN anchor Jake Tapper did not push back on her claim.
"Morning Joe" namesake Joe Scarborough even said that Trump's late-night tweet about a baseball game was a message to white nationalists that the recent tragic events don't bother him too much.
"On Sunday's 'MSNBC Live,' during a discussion of the Pittsburgh synagogue attack, host Ayman Mohyeldin repeatedly tried to get Israeli Ambassador to the U.S. Ron Dermer to criticize President Donald Trump for allegedly using 'dog whistles' that might have encouraged more anti-Semitism," Media Research Center contributor Brad Wilmouth wrote.
A guest on CNN, Tammy Hepps, said, "The blood of these victims is on President Trump's hands," when asked about the synagogue shooting on Monday. "He has knowingly and intentionally and selfishly for years used this rhetoric to endanger our community."
The New York Times' Jim Rutenberg declared that Trump's rhetoric regarding the bombs is a "not-so-veiled suggestion that the news media was exaggerating the story because of some political motivation."
Democracy Now! tweeted that a rabbi feels "Trump and GOP have blood on their hands for Pittsburgh synagogue shooting and hateful violence." Actress Natasha Rothwell took it a step further, tying all Trump supporters into the narrative.
"In no uncertain terms, if you support Trump you have blood on your hands," she wrote.
Not everyone in the mainstream media has rushed to blame the heartbreaking events of the past week on the president. The Boston Herald published a column by Howie Carr headlined, "Zip your lips, don't blame Trump," that explains to readers: "Trump didn't shoot up the Tree of Life Synagogue."