Outsider wins in Tenn. GOP primary; Possible clue in Tibbetts disappearance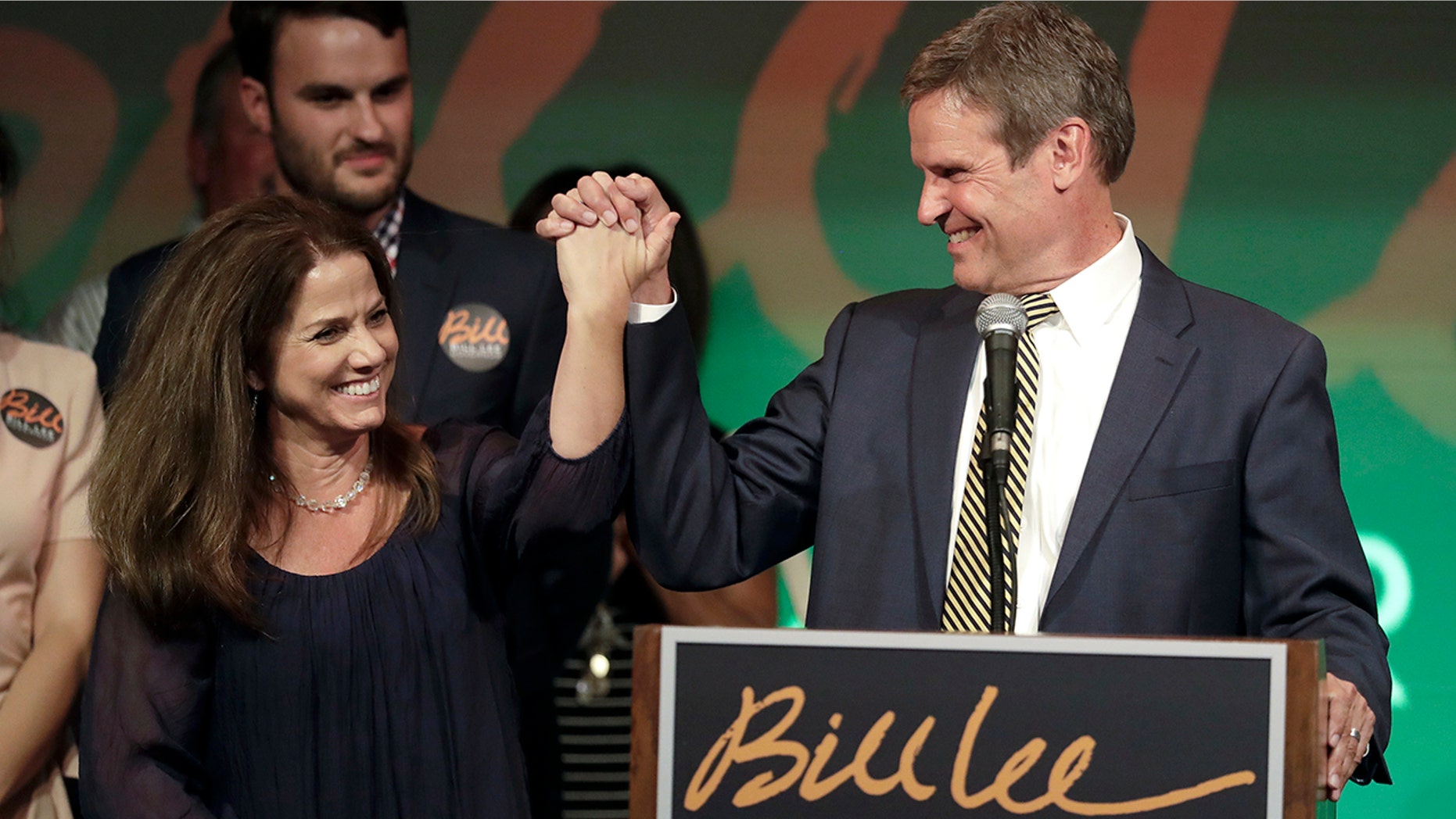 Welcome to Fox News First. Not signed up yet? Click here.
Developing now, Friday, August 3, 2018
Conservative businessman Bill Lee mounted a shock upset in a Tennessee Republican gubernatorial primary, surging past well-known contenders such as U.S. Rep. Diane Black and former state economic development chief Randy Boyd.
A possible clue to the disappearance of an Iowa college student was reportedly found near a pig farm that investigators had searched nearly a week ago.
President Trump defended his foreign policies at a freewheeling campaign-style event in Pennsylvania, where he mocked the state's Democratic U.S. Sen. Bob Casey and took shots at the left-wing leadership.
Press secretary Sarah Sanders lashed out at the mainstream media for personal attacks made against her during a heated exchange with CNN's Jim Acosta.
THE LEAD STORY – DARK HORSE RISES: Underdog conservative outsider Bill Lee upset a crowded field of well-funded, better-known candidates to win Tennessee's Republican gubernatorial primary Thursday, sending shockwaves through a state where he was down double-digits in polls as recently as last month … U.S. Rep. Diane Black, who had the endorsement of Vice President Mike Pence, was the clear favorite in the race. Former state economic development chief Randy Boyd, who had the backing of former Arkansas Gov. Mike Huckabee, was widely considered Black's chief rival. Lee, a businessman whose poll numbers surged dramatically in the last week of the campaign, took advantage of infighting among his rivals, as he traveled the state and touted his Christian values while Boyd and Black sparred.
NEW SEARCH FOR MOLLIE: Search teams on Thursday afternoon combed through ditches near a pig farm that federal agents searched almost a week ago in the hunt for missing college student Mollie Tibbetts, after a possible clue to her disappearance -- a red shirt -- reportedly was found nearby … A person mowing a lawn found the item of clothing near the Lincoln Wildfire Reserve, reports said earlier Thursday. It was not immediately clear whose shirt it was. Tibbetts worked at a day care; another employee confirmed its workers wear red shirts. Fox News has confirmed search teams were looking through ditches about a mile away from the reserve, near the same farm that FBI investigators were said to have searched for nearly two hours last week.
Meanwhile, the reward for information leading to Tibbetts' whereabouts has risen to $172,000, family members said Thursday. She was last seen July 18 when she left her boyfriend's home to jog. The boyfriend, Dalton Jack, whom police have cleared as a possible suspect, shares the home with his brother and his fiancée, and Tibbetts was staying there to watch his dogs while he was out of town on business.
RALLY RAGE: President Trump unspooled a wide-ranging defense of his foreign policy -- including recent meetings with the leaders of Russia and North Korea -- during a rally to boost support for U.S. Rep. Lou Barletta's Senate campaign … In front of a full arena in Wilkes-Barre, Pa., on Thursday, Trump mocked Barletta's Democratic opponent -- two-term incumbent Bob Casey -- as "so overrated." However, Barletta faces an uphill climb to defeat the Democrat, as two polls taken after his GOP primary victory show Casey with a double-digit lead. Later on, Trump referred to Casey as "Sleeping Bob" and attacked his views on immigration, particularly his support of chain migration.
GETTING PERSONAL: Press Secretary Sarah Sanders took her long-running feud with CNN's Jim Acosta to a new level during Thursday's White House briefing, blasting the media for personal attacks against her and accusing the press of debasing the discourse in America … "It's ironic, Jim, that not only you and the media attack the president for his rhetoric when they frequently lower the level of conversation in this country. Repeatedly, repeatedly the media resorts to personal attacks without any content other than to incite anger," Sanders said. She went on to say the media have attacked her personally "on a number of occasions" before specifically calling out rhetoric she said aired on CNN.
AS SEEN ON FOX NEWS
A MISSED HOMECOMING: "You can't overstate the emotional significance of these presumed remains of American fighting soldiers coming home 65 years after the Korean War ended." – Fox News media analyst Howard Kurtz, on "America's Newsroom," calling out the mainstream media for mostly failing to cover the ceremony that saw the return of the remains of 55 U.S. soldiers presumed killed in the Korean War. WATCH
'USING TERROR TACTICS': "[Special Counsel Mueller] has chosen his Jack the Ripper-like leader, Andrew Weissman, to use the type of tactics that are properly reserved for mafia gangs and terrorists, and they've converted Paul Manafort into this ugly creature. This is one of the most unfortunate moments in the FBI and the Department of Justice." – Former federal prosecutor Joe diGenova, on "Tucker Carlson Tonight," blasting Robert Mueller's top prosecutor. WATCH
THE SWAMP
Republican running for Oregon governor wants top state Dems to resign over sexual harassment at Capitol
Democratic New Mexico House candidate endorsed by Obama calls for abolition of ICE
Democratic socialist writer levels with voters: We want to 'end capitalism'
ACROSS THE NATION
Suspect in killing of HW Bush's doctor may have 'hit list,' report says
Democratic New Hampshire state senator arrested for allegedly hitting woman, biting her on arm
Chicago protesters demanding Rahm Emanuel's resignation march to Wrigley Field, closing major roads
MINDING YOUR BUSINESS
S&P, Nasdaq rally as Apple hits $1 trillion
Jobs report – this is what economists will be watching
Despite strong job market, age discrimination still exists, survey says
Volatility and the impact on retirement savings
Tesla stock rallies as Elon Musk apologizes, promises future profits
FOX NEWS OPINION
Ali Shihabi: Iran's rejection of a Trump summit shows its contempt for compromise
Kristine Marsh: New York Times hypocrites knowingly hire racist writer who wants to '#CancelWhitePeople'
Judge Andrew Napolitano: Sometimes even a famous lawyer can be more harmful than helpful to a client
HOLLYWOOD SQUARED
Kelsey Grammer addresses possibility of 'Frasier' and 'Cheers' reboots, shares his biggest life lesson: 'Trust in God'
Demi Lovato reportedly agrees to enter rehab facility
Tim Allen speaks out about Roseanne Barr firing: 'That's not the woman I know'
DID YOU HEAR ABOUT THIS?
Whale shark unwrapped from fishing line by Hawaii family
Police to Massachusetts toddler: You have the right to remain cute
Bus driver's act of kindness helps elderly passenger, 92, cool off in searing heat
STAY TUNED
On Facebook:
Check out 'FOX News Update,' our new Facebook-exclusive news program  hosted by Shepard Smith, Carley Shimkus and Abby Huntsman!
On Fox News: 
Fox & Friends, 6 a.m. ET: Former homicide detective Ted Williams on the latest in the search for Mollie Tibbetts. "Life, Liberty & Levin" host Mark Levin on media bias in the briefing room. Other special guests include: attorney Evangeline Gomez; author Erica Komisar; Geraldo Rivera. Plus, For King & Country visit the All-American Summer concert stage!
On Fox Business:
Mornings with Maria, 6 a.m. ET: Guests include: Tom Homan, former director, U.S. Immigration and Customs Enforcement (ICE); Tony Sayegh, assistant secretary of the Treasury for public affairs; and Tom Day, chairman and chief sales officer, Diageo Beer Company USA.
Varney & Co., 9 a.m. ET: Larry Kudlow, director, National Economic Council; Kayleigh McEnany, RNC spokeswoman; Peter Flaherty, president, National Legal And Policy Center; Paul Conway, former chief of staff, U.S. Labor Department; and Matt Schlapp, chairman, American Conservative Union.
Cavuto: Coast to Coast, Noon ET: John Yoo, former Department of Justice attorney and University of California, Berkeley law professor.
On Fox News Radio:
The FOX News Rundown podcast: After Thursday's White House briefing, FOX News Channel's Bret Baier sat down with FOX's Jessica Rosenthal to discuss election security, the state of the media today and the relevance of his new book, "Three Days in Moscow: Ronald Reagan and the Fall of the Soviet Empire."
North Korean Chairman Kim Jong Un has seemingly kept his promise to President Trump in delivering possible remains of unaccounted soldiers from the Korean War. Ted Barker, co-founder of the Korean War Project, discusses what this means to the family members of loved ones and what the identification process is like.
And don't miss good news FOX's Tonya J. Powers.
Plus, a commentary by Karol Markowicz, columnist for FOXNews.com and the New York Post.
Want the FOX News Rundown sent straight to your mobile device? Subscribe through Apple Podcasts, Google Play, and Stitcher.
The Brian Kilmeade Show, 9 a.m. ET: Special guests include: Geraldo Rivera, John Sununu, Chris Stirewalt, Shannon Bream, and Dana Perino
On Fox News Weekend:
Cavuto Live, Saturday, 10 a.m. ET: Rochelle Ritchie, Democratic strategist; America Rising PAC Director Alex Smith; Mark Penn, former Clinton chief strategist.
Fox News Sunday, Sunday, 2 p.m. and 7 p.m. ET: Special guests include U.S. Sen. Marco Rubio; Cody Wilson, director of Defense Distributed.
OBJECTified, Sunday, 8 p.m. ET: Pamela Anderson opens up to Harvey Levin about her failed marriages, visiting Vladimir Putin at the Kremlin, and her very close relationship with WikiLeaks founder Julian Assange.
Life, Liberty & Levin, Sunday, 10 p.m. ET: Host Mark Levin and special guest Rick Harrison of "Pawn Stars" sit down and discuss philosophy, capitalism, and liberty – and Rick shares one of his most treasured collectibles.
#OnThisDay
1943: U.S. Army Lt. Gen. George S. Patton slapped a private at an Army hospital in Sicily, accusing him of cowardice. (Patton was later ordered by Gen. Dwight D. Eisenhower to apologize for this and a second, similar episode.)
1936: Jesse Owens of the United States won the first of his four gold medals at the Berlin Olympics as he took the 100-meter sprint.
1914: Germany declared war on France at the onset of World War I.
1492: Christopher Columbus set sail from Palos, Spain, on a voyage that took him to the present-day Americas.
Fox News First is compiled by Fox News' Bryan Robinson. Thank you for joining us! Enjoy your day and weekend! We'll see you in your inbox first thing Monday morning.