Outrage as Dallas officials threaten to tear down wall honoring fallen police officers because it 'runs afoul of regulations'
A downtown Dallas business owner says city officials are threatening to issue summonses over an 8-foot-tall fence on her property that features a mural honoring five police officers killed in an ambush last year.
The large mural pays tribute to the officers who were killed during an attack on law enforcement at a Black Lives Matter rally in Dallas on July 7, 2016. Flowers, notes and other tokens have been left at the mural regularly since its unveiling four days ago.
Diana Paz, who runs the Last Call Lounge, told Fox News Friday that city officials didn't want to listen when she tried to them about the mural, which is about a mile away from where the shooting took place.
"They never gave me the chance to tell them what it was that we wanted to do," Paz said.
City officials insist the mural is not the problem and that they are wrongly being portrayed as insensitive. They say the fence was constructed in violation of city codes.
"We did not ask that any mural be taken down, this has nothing to do with any mural," said Richard Hill, the public information officer for Dallas City Hall. "It has to do with the fact that a fence was built without a permit."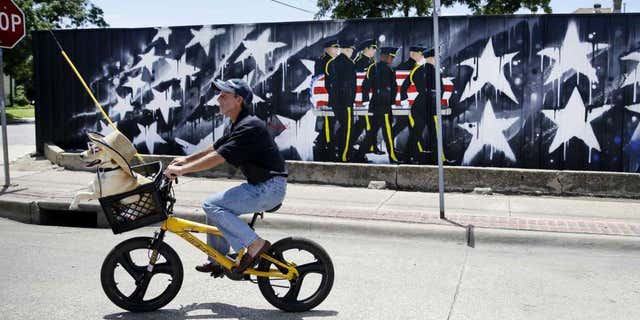 "The building inspector went out and looked at it, and gave them a notice," Hill said. "They went back and the owners still didn't have a permit, so they gave them a warning. The city did its job."
Paz was issued a violation notice May 25 saying that she failed to obtain a permit to use metal siding in the construction and that the fence blocks visibility at a nearby four-way stop.
Paz said her cousin, Cesar Rodriguez, made changes. He moved the fence back three feet to address complaints about visibility at the intersection at an added cost of $2,000, bringing the cost of building the fence to more than $17,000.
"They still said it wasn't right," Paz said. "The previous old posts are still there, they can see we moved the posts. They say they'll keep giving us citations."
Paz said her intention was to commemorate the shooting anniversary with the mural, which shows six officers of different races carrying a coffin with an American flag draped over it.
She said she vividly remembers that horrible night. Three officers working at her bar took off when they heard the call for assistance.
"We saw how they rushed out," Paz said. "It touched our own employees. We just wanted to do something for the anniversary, to give some positivity" by commissioning the mural.
Paz said she will continue making modifications to the fence until inspectors are satisfied and grant her a permit.
The Associated Press contributed to this report.