Otto Warmbier's body showed no signs of torture, coroner's report says
A coroner's report on Otto Warmbier revealed small scars, but no signs of torture, were found on the American student's body -- the shocking news coming hours after his parents' detailed the horrifying shape Warmbier was in after 15 months imprisonment in North Korea.
The Hamilton County Coroner's examination released by the Cincinnati Enquirer on Tuesday showed Warmbier had at least 10 "small scars" on his body and half of them appeared pale, meaning they healed over time. Another scar on his sternum appeared to be a "tracheotomy scar" to insert a breathing tube.
The report stated Warmbier's body was "well-developed, well-nourished" and had no signs of torture. However, Warmbier's parents, Fred and Cindy, told "Fox & Friends" earlier Tuesday about the moment they saw their 22-year-old son with mangled teeth, jerking violently and moaning on a stretcher with a feeding tube coming out of his nose.
"We walked over to the plane, the engines are still humming, they had just landed…when we got halfway up the steps we heard this howling, involuntary, inhuman sound," Fred Warmbier said. "We weren't really certain what it was."
He added: "Otto had a shaved head, he had a feeding tube coming out of his nose, he was staring blankly into space, jerking violently. He was blind. He was deaf. As we looked at him and tried to comfort him it looked like someone had taken a pair of pliers and rearranged his bottom teeth."
OTTO WARMBIER'S PARENTS OPEN UP ABOUT SON'S TORTURE BY NORTH KOREA: 'THEY ARE TERRORISTS'
The coroner's report, however, indicated Warmbier's teeth were "natural and in good repair." His nose and ears had "no remarkable altercation." The old scars could also have been caused during athletic events or obtained during prison, but no signs specifically indicated that, Milwaukee County coroner Brian Peterson told the Cincinnati Enquirer.
"Hypothetically, could these things happen if you're in a rough prison in North Korea? That might explain some of these things, but there's nothing specific to show that," Peterson said.
Warmbier's cause of death was ruled as brain damage caused by lack of oxygen from an unknown head injury that happened more than a year ago. The American student, who was sentenced to 15 years of hard labor in North Korea for allegedly stealing a propaganda poster, was held by the North Korean government for more than a year. The volatile regime finally agreed to release Warmbier, only to have him die on U.S. soil days later.
Fred and Cindy Warmbier said the reality of their son's injuries were much worse than they imagined and insisted Kim Jong Un's regime tortured him until the point of no return.
NORTH KOREA DENIES TORTURING AMERICAN DETAINEE OTTO WARMBIER
"North Korea is not a victim, they are terrorists. They purposefully and intentionally injured Otto," Fred said, adding the country's actions were "inexcusable."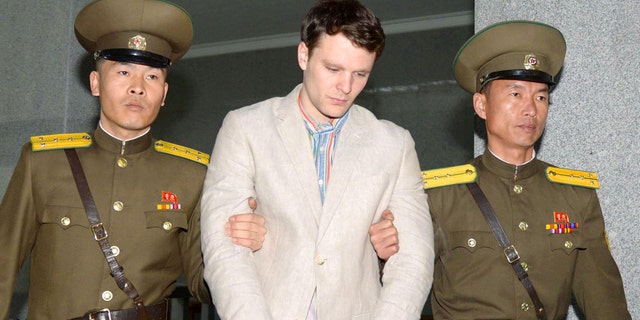 "We see North Korea claiming to be a victim and the world is picking on them, and we're here to tell you North Korea is not a victim," Fred said. "They are terrorists. They kidnapped Otto, they tortured him, [and] they intentionally injured him."
North Korea has denied torturing Warmbier during his stay, even calling itself a "victim" in the devastating ordeal. The regime also initially claimed Warmbier contracted botulism, but initial doctors' examination showed no signs of the toxin in his body.