Oregon man stabbed 17 times after telling homeless man to move, daughter says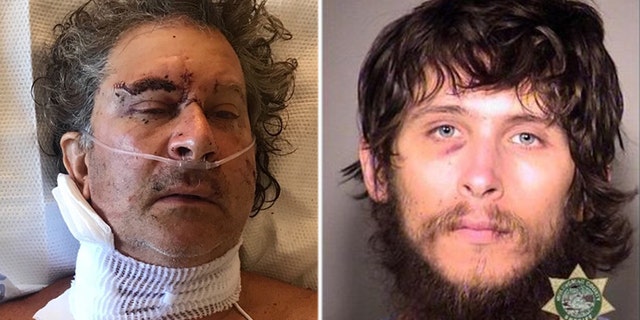 NEWYou can now listen to Fox News articles!
An Oregon man was reportedly stabbed 17 times after he told a homeless man not to camp out in his neighborhood.
Kasey Lebechuck was hospitalized after being "brutally stabbed" in Portland, his daughter, Kayla McNeel, wrote on a GoFundMe page aimed at raising money for her father's medical bills.
McNeel told Fox 12 that Lebechuck's "lucky to be alive" after he was stabbed in the "lungs, eyes, his stomach, his back, his head."
Todd Schneider, 25, was identified as the suspect in Lebechuck's stabbing, but the Portland Police Bureau didn't confirm the details of the reported assault.
'VETERANS MATTER' HELPS HOUSE THOUSANDS OF HOMELESS VETERANS
Neighbors said that Lebechuck had been telling homeless people in recent weeks that they couldn't stay in the area, where they had reportedly been living in tents for years.
"He just always stays on top of it because he doesn't want them taking over his neighborhood," McNeel told Fox 12 of her father.
Lebechuck reportedly approached Schneider when the suspect said he had to grab a phone from his backpack, but instead pulled out a knife.
"It truly is a miracle [Lebechuck] survived this attack," McNeel wrote online. "My dad is a hard working man who was trying to protect his neighborhood."
Schneider was booked at the Multnomah County Jail on Sunday on a charge of first-degree assault.