Oregon 'hostage situation' leads to three dead, including 11-year-old boy
There were multiple fatalities, including the suspect, the sheriff's office said
Three people, including an 11-year-old boy, were killed Monday during an apparent hostage situation inside an Oregon home, authorities said.
The incident unfolded at 12:30 p.m. in Salem, the Oregon State Police said Tuesday. Deputies with the Marion County Sheriff's Office responded to the residence after reports of a hostage situation.
A trained negotiator with the sheriff's Hostage Negotiation Team arrived and made a call to the suspect -- identified as 34-year-old Jesus Lopez-Tinoco, in an attempt to resolve the situation peacefully.
"As the incident unfolded, shots were fired," the sheriff's office said. "Ultimately, there were multiple fatalities during this incident, including that of the suspect."
PENNSYLVANIA MOM, DAUGHTER PLEAD GUILTY IN MURDERS OF 5 FAMILY MEMBERS
Upon hearing the gunshots, deputies forced their way into the home. Deputy Ricky Kittelson, a 2-year veteran with the sheriff's office, fired an undetermined number of rounds.
Inside the home, Lopez-Tinoco, a Woodburn resident, was found dead. He appeared to have died from a self-inflicted gunshot wound, authorities said.
Also found deceased was 24-year-old Diari Bustos-Bustos and an 11-year-old boy, both with gunshot wounds. A 13-year-old boy was rescued from the home unharmed. Laura Rocio-Bustos, 43, was found with a gunshot wound and taken to a hospital with serious injuries.
Their relationship with Lopez-Tinoco was not made clear.
No deputies were hurt and officials said there was no reason to believe there's any outstanding danger to the community. Kittelson was placed on administrative leave, which is typical after a deputy-involved shooting.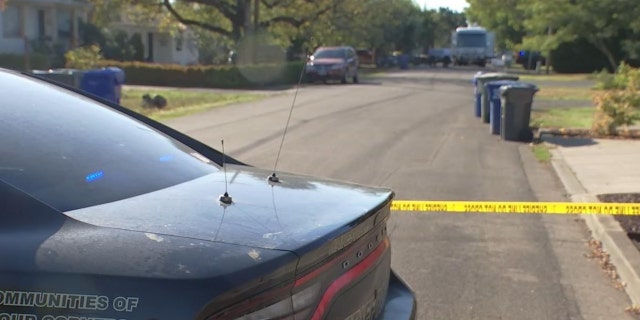 A neighbor said she not only heard the gunshots, but also saw several people being placed onto stretchers.
"The sirens I heard were all the ambulances coming in," she told FOX12 on Monday. "They loaded three different people that I could see. One of them right in front of my house."
Another neighbor, Brian Johnson, described the situation as "kinda disturbing" and wished authorities let the public know more about what went on inside the home.
"I'd like to have some more information, you know, kinda find out what happened and, you know why, why it happened," he told FOX12.
CLICK HERE FOR THE FOX NEWS APP
The road in front of the home where the shooting took place was closed for several hours as police conducted their investigation, the Statesman Journal reported.