Only Canadian on death row in US seeks clemency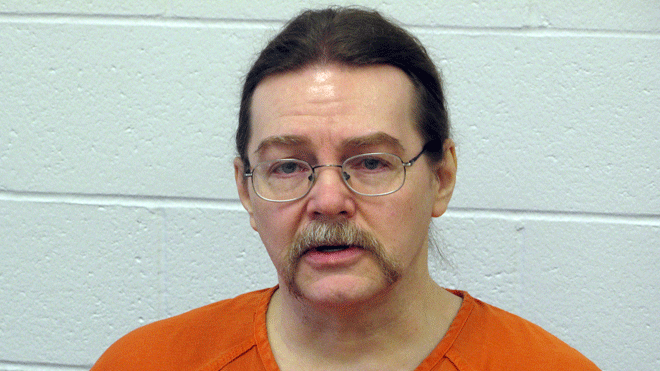 HELENA, Mont. – Lawyers for the only Canadian on death row in the United States told the Montana Parole Board on Wednesday that he deserves clemency because he is a changed man who deserves to live.
Ronald A. Smith of Red Deer, Alberta, is asking board members for a recommendation that the governor commute his death sentence to life in prison without the possibility of parole. His lawyers want them to look beyond the horrific murders of two cousins in 1983.
The board said it expects to issue its findings in three weeks, although there is no time limit for a final decision from Gov. Brian Schweitzer who leaves office at year's end.
Smith was sentenced just seven months after he marched Harvey Mad Man, 23, and Thomas Running Rabbit, 20, into the woods just off U.S. 2 near Marias Pass and shot them both in the head with a .22-caliber rifle in an alcohol-and-drug-fueled episode.
Smith, 24 at the time of the killings, said at the time he wanted to know what it was like to kill.
Smith originally sought the death penalty, spurning a plea deal that would have spared his life. His co-defendant has since been paroled and is living in Canada, while Smith lives in the maximum-security portion of the Montana State Prison.
Smith's request comes just a week after another high profile case in front of the board, which quickly and sternly rejected a parole request from Don Nichols — the aging "mountain man" serving an 85-year sentence for abducting a woman in the 1980s with the intent of making the world-class athlete his son's wife.
A Smith supporter argued that the board sent a strong message in the Nichols case that inmates who show no remorse with their behavior do not deserve leniency. Helena attorney Ron Waterman said the board should grant clemency to Smith for the same reason — to show other inmates that good behavior matters.
"When you do, and if you do, you will send a message to those incarcerated that their conduct can improve their situation — that good conduct can lead to good results," said Waterman, who is also a lead attorney in a separate case challenging the state's lethal injection protocol. "If you articulate that voice, it will be heard and it will have an impact not just on Ron Smith, it will have an impact, I believe, on the entire prison population."
A prison doctor, Bowman Smelko, said that Smith has become a model prisoner who does not exhibit the anti-social behavior he did decades ago. Smelko said research has shown many death row inmates either commit suicide or go insane, while Smith beat the odds to improve himself and accepted responsibility for his actions.
Smith, now 54, argues in his commutation application that he's a far different person than the out-of-control youth that took the lives of two young Blackfeet Indian men. Smith has said he was heavily intoxicated that day and doesn't have a strong recollection of the men he killed.
Smith has 17 witnesses, including himself, scheduled to testify on his behalf in a hearing that could run through Thursday. They include a representative of the Canadian government that opposes the death penalty for any of its citizens, family members who argue he has helped repair dysfunctional relationships, prison workers who say Smith has become a valuable member of their community, and others.
The state has 23 witnesses, including many members of the victims' family and residents of the Blackfeet Tribe, who argue the original sentence should be upheld.
A document inadvertently released by the board last month showed that parole board staff is recommending that Smith's request be rejected. But the board says the staff letter was just a recommendation for them to consider as they look at the case.
The Montana governor has not indicated which way he may ultimately rule. Schweitzer has in the past has told the family of the victims that he will think of them, and their desire to see the death penalty carried out, in making any decision. He has also said he does not take lightly any decision to execute a man.
Smith has exhausted his legal appeals and faces the death penalty once the lawsuit over the method used by the state is cleared up.
The Canadian government, which does not believe in capital punishment, had initially refused to support Smith, saying he had been convicted in a democratic country. It now formally supports clemency for Smith, in accordance with a long-standing policy of seeking clemency for Canadians sentenced to death in foreign lands.
Smith has said he doesn't expect the lukewarm support will have much bearing on the case.