One person killed in Pennsylvania crash involving Lehigh University bus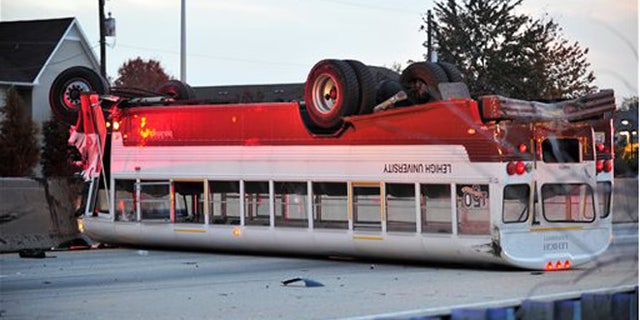 NEWYou can now listen to Fox News articles!
One person was killed Tuesday night in a traffic accident involving a car and bus carrying the Lehigh University men's and women's rowing teams, but no major injuries to students have been reported.
Officials in Lehigh County said the crash happened on U.S. Route 22 near the Lehigh-Northampton county line. The bus flipped onto its roof after colliding with the car, the Morning Call newspaper reports.
The university said in a news release that there were no major injuries to the 20 students, and all of them are being evaluated at three nearby hospitals.
University officials added that the one fatality reported did not involve a Lehigh University student.
The university said in a tweet that "All students involved in earlier bus accident are being evaluated by medical personnel. Prelim. reports of no major injuries at this point."