One in 6 newlywed couples was interracial in 2015, Pew study shows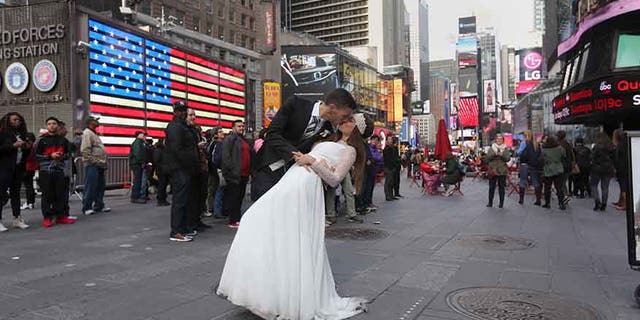 Interracial marriages in the United States jumped more than fivefold in the last 50 years, accounting for 1 out of 6 newlywed couples in 2015, according to Census Bureau data analized by Pew Research Center.
The most common racial or ethnic pairing among newlywed intermarried couples is Hispanic and white (42 percent), followed by Asian and white (15 percent) and one white and one multiracial spouse (12 percent).
More broadly, one in 10 married people – not just those who recently married – had a spouse of a different race or ethnicity in 2015.
This translates into 11 million Americans, according to Pew.
6 WEDDING PROBLEMS THAT MAY SIGNAL MARRIAGE FAILURE
The findings mark a social turnaround from 1967, when a mere 3 percent of new marriages was interracial.
"There's much greater racial tolerance in the United States, with attitudes having changed in a way where it's much more positive toward interracial marriage," said to the AP Daniel T. Lichter, director of the Institute for the Social Sciences at Cornell University.
"But I think that a greater reason is the growing diversity of the population. There are just more demographic opportunities for people to marry someone of another race or ethnicity."
BETTER SEX, BETTER HEALTH, MORE MONEY: WHAT MEN REALLY GET OUT OF MARRIAGE
The most dramatic increase in intermarriage occurred among black newlyweds, while whites are the least likely among racial or ethnic groups to intermarry, the report said.
However, intermarriage is rapidly becoming more popular among blacks and whites. Since 1980, the number of blacks who chose to marry someone of a different race or ethnicity rose from 5 percent to 18 percent.
Whites also have become more accepting of intermarriage, with the rates increasing from 4 percent to 11 percent during that same time period.
Interracial marriage became legal throughout the United States in 1967 when Richard and Mildred Loving took their case to the U.S. Supreme Court. The Lovings were thrown into a Virginia jail in 1958 for violating the state's ban on interracial marriage. The Supreme Court struck down the Virginia law and those in roughly one-third of the states in 1967.
Reuters and AP contributed to this report.