One dead, several hurt in Washington New Year's Eve apartment fire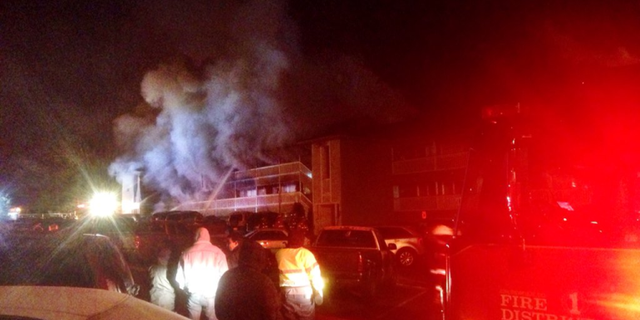 NEWYou can now listen to Fox News articles!
EVERETT, Wash. – An apartment complex in Everett was consumed by fire New Year's Eve, killing at least one person, injuring five others and forcing more than 100 residents out of their homes.
One adult was found dead by fire crews, Everett Assistant Fire Marshal Eric Hicks said.
Five people were injured, including two children, The Daily Herald reported. One of those people was critically injured, the newspaper said.
Details on injuries and identities of the victims were not immediately known.
Firefighters were called to a report of a mattress fire at the complex about 7:15 p.m. Thursday, Hicks said. The fire spread quickly throughout the apartment complex known as The Bluffs at Evergreen at 2 West Casino Road, he said.
Elizabeth Alejo, who lives in an apartment facing the fire, told the Herald she heard screams around 7 p.m. "When we opened the curtains we saw the flames. They were everywhere," she said.
Flames were shooting from windows on the second and third floors, and two cars in the parking lot appeared to be ablaze, Alejo said.
About 50 units have been damaged by the fire, officials said.
American Red Cross officials were helping more than 100 people displaced by the fire to find lodging.
The Bluffs at Evergreen website says the complex is made up of 217 apartments.