Oklahoma vet says he pulled 21 pacifiers from dog's stomach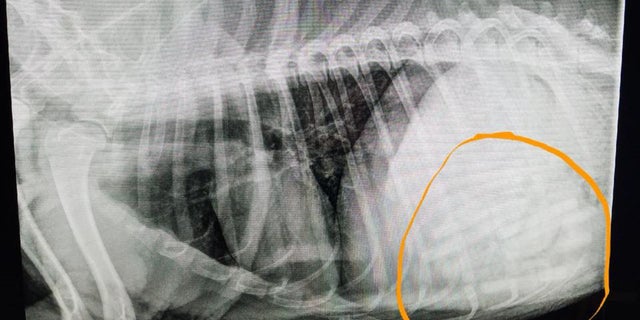 A veterinarian in Oklahoma took to Facebook last week to share what he described as "the most fascinating and exciting surgery" in his career.
The post said 21 pacifiers were extracted from a dog's stomach during surgery, which was performed by Dr. Chris Rispoli, the veterinary confirmed.
Dovey the dog was brought to the Gentle Care Animal Hospital in Edmund after her owners saw her throw up a pacifier, according to Facebook.
HEARTBREAKING VIDEO OF STARVING POLAR BEAR STIRS CONTROVERSY AMONG CONSERVATIONISTS
The family recently had had a new baby, "but were having a missing binkie dilemma," the post said. Grandma apparently had seen the dog steal a pacifier off the counter once, and the family told the vet that Dovey was eating a little less and had vomited in the past few days, the post said, "but other than that was acting fine."
"When she vomited up a binkie, plus the story from grandma, dad brought her in for an x-ray," the vet wrote on Facebook.
3 FLORIDA MEN CHARGED IN SHARK-DRAGGING VIDEO
Photos shared by the vet showed what he reportedly thought was seven to nine pacifiers lined up in the dog's stomach. But when the team began operating to take them out, they found about a dozen more.
The vet said Dovey was "doing GREAT post op," but warned other pet owners how not to fall to the same fate.
"Dog's will eat anything, anytime and at any age so always be watching!!!" he wrote.