Oklahoma man brings horse into feed and tack store, goes viral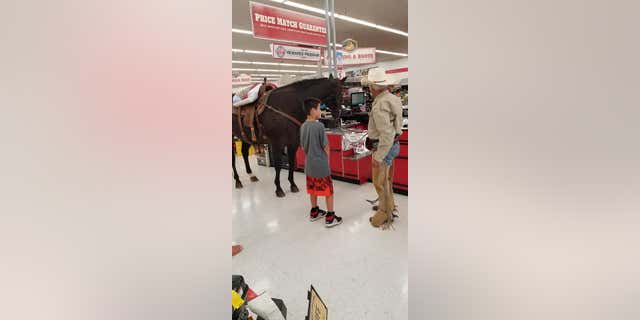 Oklahomans shopping in a local feed, tack and supply store got a wild surprise when a man came to the store to purchase horse feed — with a horse by his side.
Robin Morris of Cheyenne, Oklahoma, was in the checkout line at the Elk City Tractor Supply Company when the man, whose identity is not currently clear, appeared.
"I was checking out when the gentleman came in and was asking the ladies if he could bring his senior horse in to pick up senior feed," she told Fox News on Wednesday.
OKLAHOMA HIGH SCHOOL TO FINE STUDENTS FOR TARDINESS, MISSING CLASS
Baffled, Tractor Supply employees asked their boss if the man could come inside with his horse. According to Morris, the manager allowed the man to come inside, stating that all pets are welcome as long as they are on a leash.
Since "technically a bridle is a leash," she said, the man was allowed inside.
Morris later took to Facebook to share videos and photos of the event. "Only in Oklahoma!" she captioned the post, which has since gone viral, boasting 50,000 reactions and nearly 70,000 shares as of Wednesday afternoon.
One video Morris shared shows the man walking through the front of the store, then around to the checkout line. A second shows the man throwing a bag of feed onto the saddle before walking the horse — which appeared to remain calm throughout the entire event — out of the store.
The post has also garnered thousands of comments from social media users across the country.
"That's one awesome horse!" one user commented.
"This man is my hero!" another wrote.
"I'd do it in a heartbeat," a third commented.
TULSA BUSINESSMAN, POLITICAL NOVICE KEVIN STITT WINS GOP PRIMARY FOR OKLAHOMA GOVERNOR
Morris chose to "stick around to watch and record it [because] I figured most wouldn't believe it," she said, adding that she never expected the post to go viral.
"I just thought it was funny [and it] made me smile, so I wanted to share it with my friends. But it went well past that," she added.