Ohio teen pleads not guilty to Ohio school shooting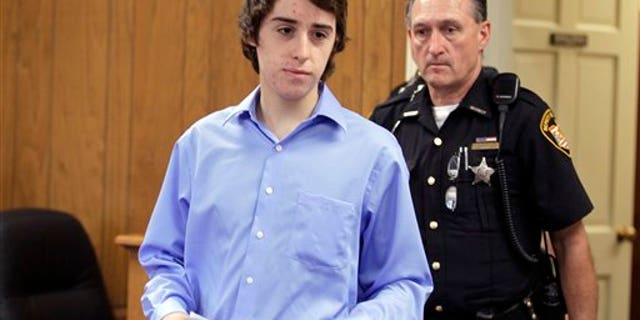 CHARDON, Ohio – A teenager pleaded not guilty Friday to shooting and killing three students and wounding three others in the cafeteria of a high school in suburban Cleveland.
T.J. Lane, 17, told a judge that he understood the charges during his first court appearance since being indicted this week on charges of aggravated murder, attempted aggravated murder and felonious assault.
Lane will be tried as an adult in the Feb. 27 shootings at Chardon High School. He could face life in prison if convicted.
Geauga County Common Pleas Judge Forrest Burt set Lane's bond at $1 million on Friday.
Prosecutors have said Lane has admitted taking a .22-caliber pistol and a knife to the high school and firing 10 shots at a group of students sitting at a cafeteria table at the start of the school day. A sheriff's deputy testified at a hearing in May that Lane was wearing a T-shirt with the word "Killer" when he was found about a mile from the school.
Killed in the attacks were Demetrius Hewlin, 16, Russell King Jr., 17, and Daniel Parmertor, 16.
Lane's attorneys, who've been under a gag order, have not said what their defense strategy will be at trial. A message was left Friday with Mark DeVan, one of his attorneys.
Questions about his competency have come up at earlier hearings.
A judge said in May that Lane was mentally competent to stand trial in juvenile court after a psychiatrist who examined Lane testified he sometimes loses touch with reality and suffers from hallucinations, psychosis and fantasies.
The psychiatrist also said none of the symptoms would prevent Lane from understanding the case against him and helping in his defense. Under a new state law, a child can be found competent only if he or she is able to grasp the seriousness of the charges and understand the proceedings.
Now that the case is adult court, questions about his mental health may come up again.
Lane isn't eligible for the death penalty in Ohio because he is under 18.
No motive has been established for the shooting.
Lane attended an alternative school for students who haven't done well in traditional schools. He was at Chardon waiting for a bus.