Ohio Teen Finds Family Members Dead, Thought It Was Halloween Prank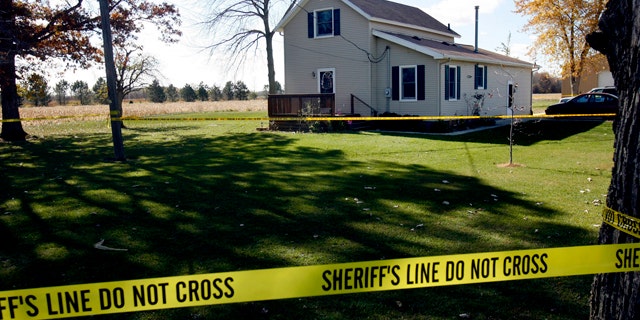 NEWYou can now listen to Fox News articles!
TOLEDO, Ohio – A 16-year-old boy thought he had stumbled onto a Halloween prank when he found the bloodied bodies of his brother, mother and stepfather in his family's home in northwest Ohio, authorities said Monday.
His stepbrother, who authorities say has a history of mental health problems, was arrested in the slayings.
Devon Griffin had spent the night out and returned home Sunday to change his clothes before church, authorities said. After returning from church, he discovered the bodies of his brother, Derek Griffin, 23; their mother, Susan Liske; and her husband, William Liske, in their Martin home.
The teenager told authorities it looked like a joke from a Halloween party, Ottawa County Sheriff Bob Bratton said. But he soon realized the bodies weren't decorations. He ran outside and called an aunt, who called 911.
"My nephew came home and there's blood everywhere," Griffin's aunt told a dispatcher on the 911 call.
Bratton said the Liskes and Derek Griffin suffered severe trauma to the head. It wasn't immediately clear whether a gunshot or a blunt object killed them, Bratton said. Autopsies were being conducted.
William Liske's 24-year-old son, also named William Liske, was arrested Sunday at the family's cabin near Scio, some 170 miles away from Martin. He was jailed, and didn't have a lawyer as of Monday afternoon. He is due in court this week.
The Blade newspaper in Toledo reported that in 2004, the younger Liske was charged with assault and robbery and accused of hitting his stepmother with a coffee cup and taking her car keys. A plea of not guilty by reason of insanity was filed for him. The state later dropped the charges.
The younger Liske lives in a halfway house in nearby Sandusky, Bratton said. He sometimes visited his father and stepfamily on the weekends at their home off a country road in sparsely populated farmland, prosecutor Mark Mulligan said.
Ottawa County's cottages and resorts on Lake Erie are popular among tourists. Authorities say only five homicides, including the three Sunday, have occurred since 2001.