Ohio firefighters suspended 'for making pornographic videos in fire house', officials say
Two veteran firefighters in Akron, Ohio, have been suspended after allegedly making pornographic videos together at a fire station.
The suspended firefighters have been identified as Lt. Art Dean and Provisional Lt. Deann Eller. They have both worked for Akron Fire Department since 2000.
Dean was stationed at Fire Station 3 in West Hill, while Eller, who was promoted earlier this month, was at nearby Fire Station 9 in Highland Square. It is unclear whereabouts the videos were filmed, although local news reported they took place at Station 11 on Akron-Peninsula Road.
The footage, which was shared on several porn websites, appears to a show a woman, thought to be Eller, naked and working out in a basement gym.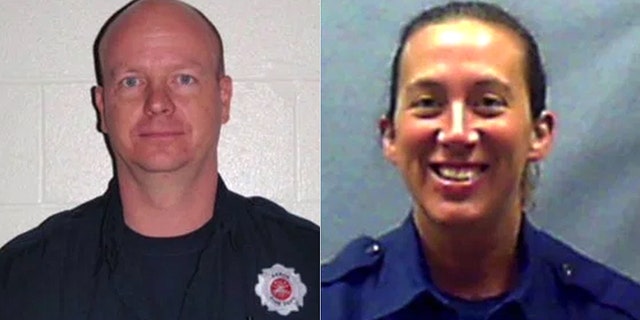 FIREFIGHTER HAS BECOME MASTER OF MAXING OUT OVERTIME PAY
City spokeswoman Ellen Lander Nischt said officials do not believe the gym was in one of the fire stations, but she could not confirm.
A joint statement from Akron Mayor Dan Horrigan and Fire Chief Clarence Tucker obtained by FOX8 called the allegations "shocking and distressing."
"The Akron Fire Department is composed of hundreds of committed first responders who comport themselves with dignity, professionalism, and the highest levels of integrity and dedication in their service to the Akron public," the statement said.
"These courageous public servants put their lives on the line each and every day to protect the health, safety, and property of Akron citizens and serve as role models of duty and service across our community.
"These allegations bring unwelcome dishonor and embarrassment to Akron Fire Department and the City of Akron and unfairly discredit the reputation of other Akron Fire officers."
Steven Barker, president of the Local 330 firefighters union, said Eller and Dean did not wish to speak to the media, adding that he expects the investigation to wrap up in a week.
"I've never heard anything like it at all," he told Ohio.com. "I've never heard anything similar to this."