Ohio boy, 11, steals car, sparks chase after mom takes PlayStation away; third pursuit in 13 months, cops say
He's not old enough to drive. He may not even be able to see over the steering wheel. But for the third time this year, an 11-year-old Ohio boy reportedly led cops on a high-speed chase Sunday -- the latest incident allegedly sparked by his mom taking away a toy.
The Brooklyn Police Department told FOX8 the boy, who was not identified because he's a minor, stole his mother's SUV after the two had an argument when she took away his PlayStation. An officer spotted the SUV sitting outside a former fire station around 11 p.m., and when the officer went to check on the driver, the boy immediately hit the gas.
The situation grew even more dangerous when the driver turned off his headlights -- while traveling as fast as 87 mph and veering into opposing lanes of traffic, police said.
The boy's father contacted police during the chase to inform them his son had taken the vehicle, and police called off the pursuit, officials told FOX8.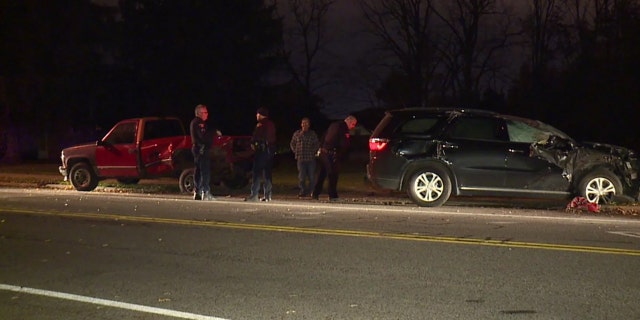 About 25 minutes later, the boy crashed into a parked car in Cleveland, flipping the vehicle. The boy later told officers he crashed because he wasn't paying attention, according to FOX8. The 11-year-old was later taken to an area hospital, where he was treated for injuries to his hand and wrist.
Police said the boy will face felony charges in juvenile court.
MICHIGAN WOMAN LIT UP CRACK PIPE AFTER LEADING COPS ON CHASE, POLICE SAY
The chase on Sunday marked the third time the boy was involved in a police pursuit. Back on Oct. 26, 2017, the boy stole his father's car while waiting for his sister to take him to school. In that incident, the boy hit speeds of 100 mph on Interstate 90 while being chased by state troopers.
The boy's father, Christopher Hampton, told FOX8 at the time he was in disbelief.
"This is the second time in a week," Hampton said at the time. "He took his mother's boyfriend car last week and so I told her to let him live with me for a week, and the first day with me and he steals my car."
In the first incident, the boy took his mother's car and sped away on Interstate 90 before three of his tires blew out. Police said the boy told officers he took the car because he was bored, FOX8 reported.