Ohio Alpaca Owner Hopes Animal's Killing Leads to Tougher Laws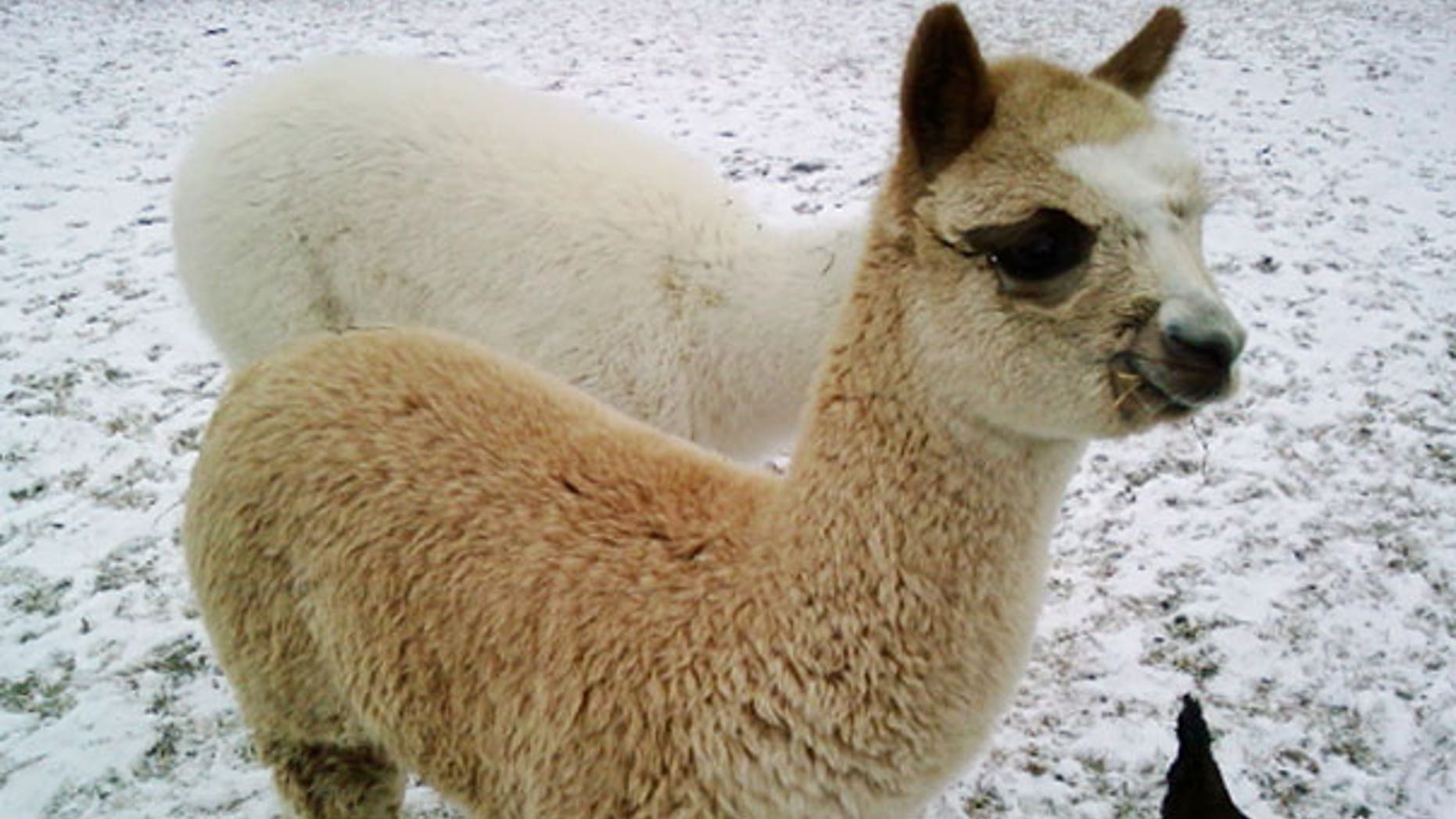 The owner of a baby alpaca that was tortured and beaten to death last month hopes some good will come from the senseless killing, as a state lawmaker continues to push for tougher animal cruelty laws in Ohio.
Jeff Pergram said he has buried his "loving and caring" 3-month-old alpaca, Masterpiece, who was found in an abandoned barn in southwest Ohio on Feb. 19. Shocked and "disheartened" by the killing, Pergram says he plans to install security cameras along the perimeter of his Middletown farm to ward off any future attacks on his beloved animals.
"It's hard to look out there and see he's not there now," Pergram told FoxNews.com. "He was a real inquisitive guy. He was like a dog, he wanted to be right next to you, to nuzzle you."
Pergram said Masterpiece's friendliness probably led to his demise.
"He was way different," Pergram continued. "And it's a different generation of people we're raising right now."
Two 17-year-old boys have been charged in juvenile court with vandalism, theft, animal cruelty, breaking and entering and tampering with evidence related to the death of Masterpiece, whose value has been estimated at $8,000. The youths remain in custody at a juvenile detention center pending a March 30 hearing. Prosecutors want their case transferred to adult court, where they'd face harsher penalties if convicted.
A grand jury also is considering whether to indict Stacie Mullin, 22, of Madison Township, Ohio, who allegedly drove the boys to and from Pergram's farm in connection to the killing.
Alpacas, which are similar to llamas, are native to South America and are prized for their wool. According to a national registry, nearly 25,000 alpacas, roughly 20 percent of the nation's total, are kept in Ohio.
In the wake of Masterpiece's beating death and reports of another missing alpaca in the area, Rep. Courtney Combs, R-Hamilton, says it's time to pass Ohio House Bill 55, which would toughen animal cruelty laws in the state.
"Let's get this bill going," Combs told FoxNews.com. "How can you explain the mind that works that way, that would abuse a helpless animal?  There's something wrong there."
Combs proposed the bill in late 2007, but it has stalled in the Ohio Legislature. He hopes the high-profile killing of Masterpiece and the second missing animal will push the bill into law. Since Masterpiece was found bloodied and beaten, Combs says he's received calls from concerned alpaca owners.
"They are afraid for their animals," he said. "And they are very, very popular in Ohio. Some people call Ohio 'Little Peru' because there are [more alpacas] here than any other place outside of Peru. Isn't that amazing?"
A Web site dedicated to Masterpiece and a companion Facebook page with more than 1,500 fans has generated strong reactions to the animal's killing. Some users sent letters to local lawmakers urging passage of Combs' bill.
Gary Simpson, who raises 15 alpacas on a farm near Brookville, Ohio, told the Cincinnati Enquirer that "everybody's sense of security has been shaken" since Masterpiece's killing.
Combs' bill would toughen sentencing provisions of animal cruelty statutes in Ohio and require treatment for juvenile offenders.
He is also considering proposing the creation of an animal abuser registry, much like a database that tracks sex offenders. A similar effort has recently been proposed by a California lawmaker.
But Robin Piper, Butler County's prosecutor, thinks the current version of Combs' bill doesn't do enough.
"House Bill 55 would allow animal cruelty, animal torture, or the malicious killing of an animal to be a misdemeanor," he said in a March 5 statement. "That's not good enough."
Piper said the bill, as currently written, only requires psychological counseling when an animal is a "companion animal" like a cat or dog. Alpacas, meanwhile, are livestock animals and as such, the corresponding animal cruelty charge carries a maximum penalty of 90 days in jail.
"This requirement should be more comprehensive and put into place anytime a juvenile is involved in animal cruelty, malicious injury, or torture of an animal -- regardless of what type of animal is involved," Piper's statement continued.
Piper said the state's "antiquated" animal cruelty laws need to be revised.
"It doesn't make sense that someone can steal $500 worth of scrap metal and it's a felony, yet they can maliciously beat, torture, or kill and an animal worth thousands of dollars, and it's only a misdemeanor," he said. "I'm not trying to go on a crusade, but the law needs to be much stronger than it is."