Officials Seek IDs of Bodies Found on New York Beach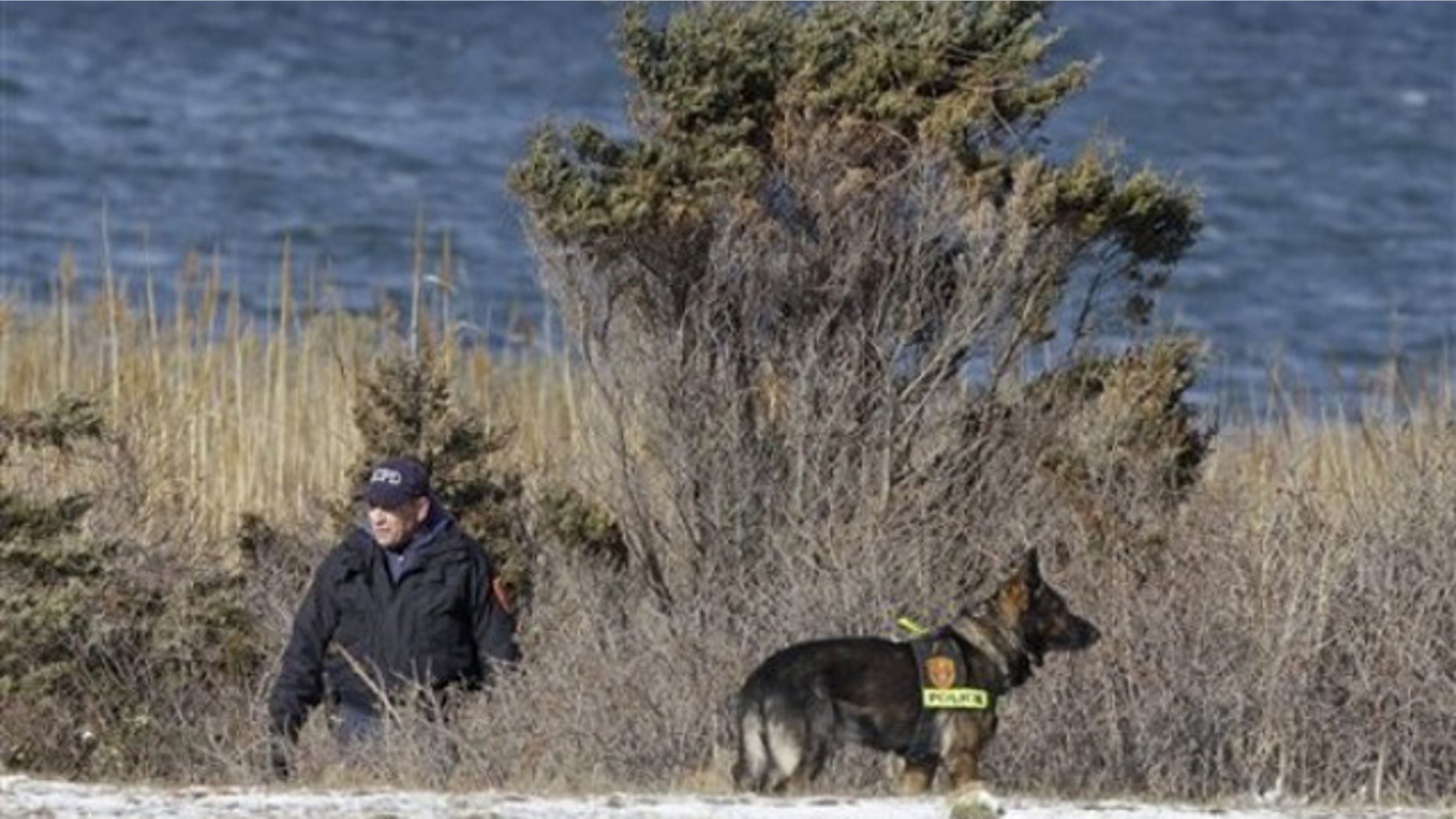 The mother of a missing Maine woman last seen working as an escort in New York submitted a DNA sample Wednesday to authorities trying to determine the identities of four women whose bodies were found dumped on a deserted beach highway on Long Island.
Meanwhile, police on New York's Long Island are speaking to the FBI in their hunt for a possible serial killer who dumped those bodies alongside a deserted parkway at a remote beach, sources tell FoxNews.com .
Suffolk County Police Commissioner Richard Dormer said Tuesday that a serial killer may be responsible for the alleged murders of four people, whose badly decomposing remains were found in the same area where a prostitute was reported missing.
A law enforcement official confirmed to FoxNews.com on Wednesday that all four victims are women. Their bodies have yet to be identified.
Another police source said that authorities are "pursuing all angles," including the possibility that the case may be connected to the 2006 murders of four prostitutes in Atlantic City, N.J.
An official with the Suffolk County Police Department said authorities were conducting a "training exercise" over the weekend when they came across the first body. The official, who declined to be identified due to an ongoing investigation, said a police canine unit chose the area in response to a missing-person report made in May after Jersey City, N.J., resident Shonnan Gilbert disappeared.
Gilbert was reportedly last seen alive on May 1. The woman worked as a prostitute and had arranged through the Craigslist classified ads website to meet a client on Fire Island -- about a mile from Oak Beach, a police source said.
Three of the women's bodies were found Monday at Oak Beach, which is on a remote barrier island that divides the Great South Bay and the Atlantic Ocean. A fourth women was discovered near the same area on Saturday. Two of the bodies were found wrapped in burlap sacks, according to MyFoxNY.com.
The mother of a Maine woman who worked as a Craigslist escort and went missing from a hotel on Long Island said police informed her that her daughter may be one of the victims, according to the Associated Press.
Twenty-two-year-old Megan Waterman, of Scarborough, Maine, was last seen in June in Hauppauge, N.Y., where she went with her boyfriend.
Waterman's mother, Lorraine Ela, told The Associated Press that a Scarborough detective told her he was "leaning toward one of the four victims being Megan, but he's not 100 percent guaranteed."
Relatives of another possible victim reportedly told the New York Post that cops identified the "john" the woman was last seen with. The newspaper reported that the man lives near the stretch of Ocean Parkway in Gilgo Beach, where the bodies were found.
The Post also reports that Gilbert, 24, placed a 911 call during which she names the man and claims he's trying to kill her.
Officials with the Suffolk County Police Department told FoxNews.com that they could not confirm such details.
"We have no information regarding that at this point," a police official said when asked if authorities had identified a suspect or person of interest.
The case bares similarities to the 2006 unsolved murders of four prostitutes whose bodies were found behind a strip of Atlantic City motels known for drugs and prostitution. The women were each barefoot and lying face-down in a drainage ditch. Their killer has never been identified.
Click here to read more on this story from the New York Post 
Click here for more on this story from MyFoxNY.com
FoxNews.com's Cristina Corbin and the Associated Press contributed to this report