Odierno: ISIS, Russian Threats May Scuttle Plans to Shrink Army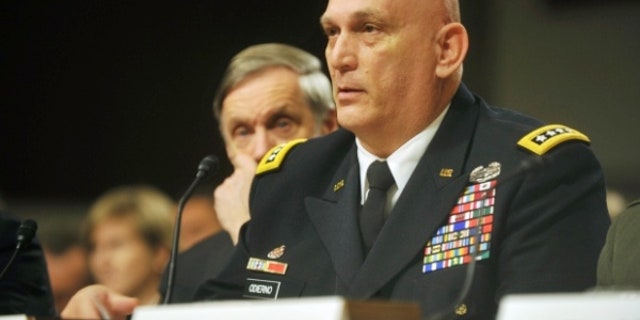 NEWYou can now listen to Fox News articles!
The rising national-security threats posed by Islamic militants and the Russian military raise fresh doubts about the U.S. Army's plans to downsize, the service's top general said.
Army Chief of Staff Gen. Raymond Odierno on Monday suggested proposals to decrease the size of the active-duty force due largely to automatic budget cuts and an end to the U.S.-led wars in Iraq and Afghanistan are based on outdated assessments.
"The problem is ... the world is changing in front of us," Odierno said during a military conference in Washington, D.C. "We've seen Russian aggression in Eastern Europe, we've seen ISIS, we've seen some increased instability in other places, so I now have a concern whether even going below 490,000 [soldiers] is the right thing to do."
The active-duty Army, which has more than half a million soldiers today, is on pace to shrink to between 440,000 soldiers and 450,000 soldiers by 2017. That figure could fall to as low as 420,000 soldiers if automatic budget cuts known as sequestration remain in effect.
"My thought is it should all be on the table as we look at the security environment," Odierno said during a briefing with reporters during the opening day of the annual conference organized by the Association of the United States Army.
His remarks came a day after militants affiliated with the Islamic State of Iraq and Syria, known as ISIS or simply the Islamic State, an al-Qaeda-inspired terrorist group that has overtaken swaths of Iraq and Syria, had advanced to within about 15 miles of Baghdad's airport.
"I believe the capability is there to defend Baghdad," Odierno said in response to a question from a reporter. The U.S.-led airstrikes against the militant group are helping to slow the gains made by the group and "buy us time to train Iraqi forces," he said.
The U.S. has about 1,600 troops in Iraq, mostly at Joint Operations Centers in Baghdad and Erbil in the north. American troops recently flew Apache AH-64 attack helicopters to strike ISIS targets in Anbar province, according to news reports.
The spending reductions are also creating "a huge window of risk" in such areas as modernization and readiness accounts, which are used to upgrade equipment and train soldiers, Odierno said.
The general appeared alongside Army Secretary John McHugh, the service's top civilian, who also warned against the harmful and unintended effects of budget cuts, particularly in fiscal 2016 and beyond when the full effect of the reductions will be felt.
The Army has made "difficult" decisions, McHugh said, in proposing to suspend the Ground Combat Vehicle program to replace the Bradley infantry fighting vehicle and reorganize the helicopter fleet to make way for other acquisition efforts, including the Joint Light Tactical Vehicle to replace the Humvee, among others.
"Any further reductions will put all of that in question," McHugh said, "and that's a big concern."
-- Brendan McGarry can be reached at brendan.mcgarry@monster.com