Occupy Wall Street promotes killing ICE agents in gory, step-by-step cartoon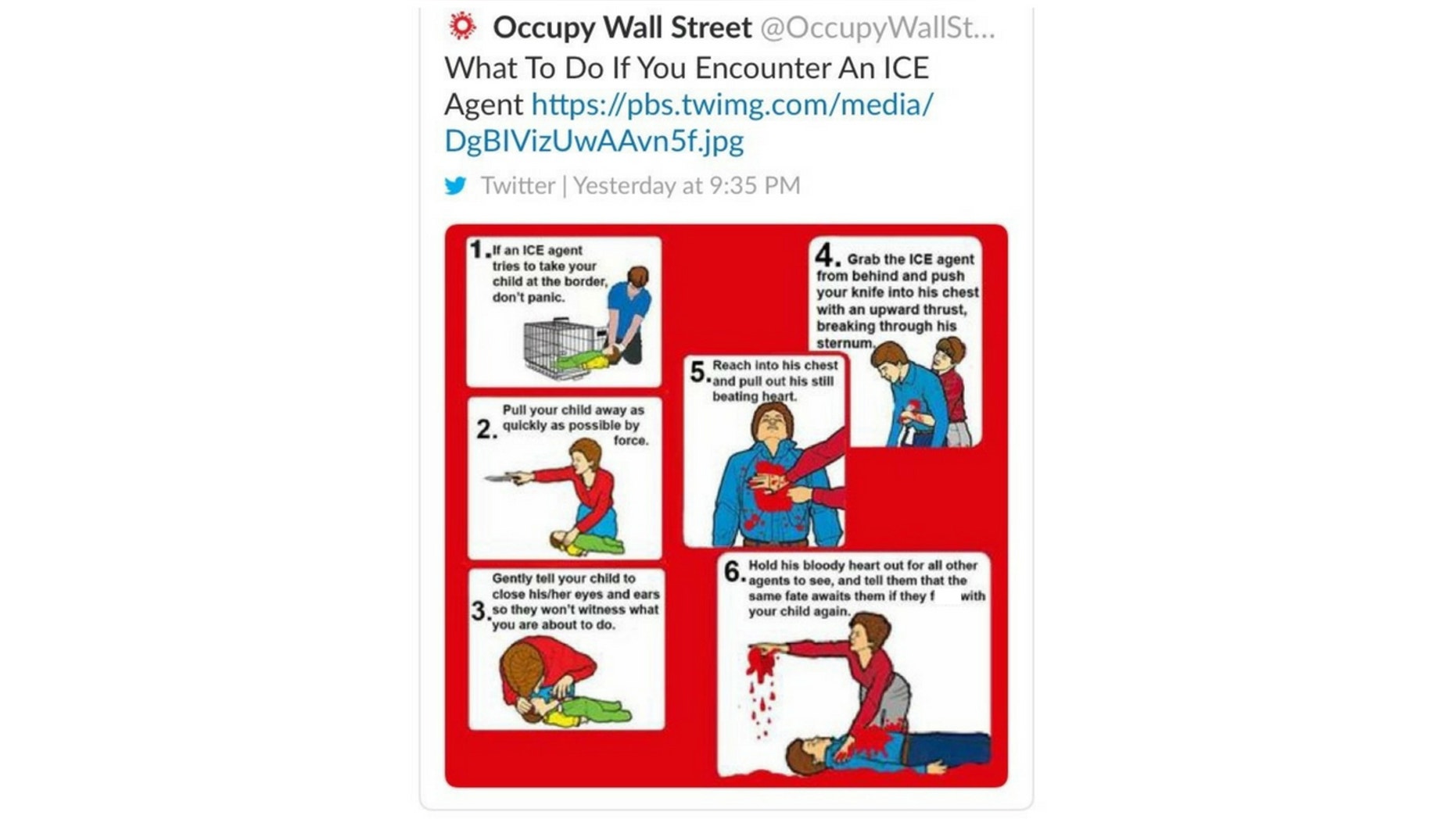 Occupy Wall Street received backlash after it promoted killing U.S. Immigration and Customs Enforcement agents in a graphic and gory cartoon providing step-by-step instructions.
In the since-deleted cartoon tweeted Monday, an undocumented immigrant is seen with a child and a cage. The image, sent out from Occupy Wall Street New York City Twitter account, was in reference to the practice of separating children from parents caught illegally crossing the border.
"If an ICE agent tries to take your child at the border, don't panic," the first blurb reads.
The next steps read: "2. Pull your child away as quickly as possibly by force. 3. Gently tell your child to close his/her eyes and ears so they won't witness what you are about to do."
The cartoon then advises to "grab the ICE agent from behind and push your knife into his chest with an upward thrust," causing the agent's sternum to break.
"Reach into his chest and pull out his still beating heart," the next step reads. "Hold his bloody heart out for all other agents to see, and tell them that the same fate awaits them if they f--- with your child again."
The instructions are accompanied by images of a woman stabbing an agent, blood spewing from the man's chest as she holds a heart out.
The tweet was up for nearly a day before it was taken down. Several Twitter users condemned the resistance movement for promoting violence on ICE agents, especially when children were present.
"This is a very disturbing and ultimately alarming tweet condoning outright violence. If anyone actually takes this advice can Occupy Wall Street be sued for damages? Can Twitter be sued for damages?" one user wrote.
Another added, "Not just violence. Really gross bloodthirsty murder in front of (what looks to be dead) kid."
Others said they reported the tweet within hours of the graphic content being posted, but still took hours to be taken down. It's unclear if Twitter or Occupy Wall Street deleted the post.
However, the account seemingly referenced the cartoon by tweeting Tuesday a dictionary definition of "satire" with the caption: "For those who are confused."
"Nobody was confused by your advocating murder of federal agents. If it was 'satire,' why'd you delete it?" one person responded.
"Nothing about Satire in your picture. You advocate killing of law enforcement officers. Can you sink lower? Satire is aimed at being funny. When is killing another human being acceptable just because you disagree? Mama didn't teach you manners...or normal thought process," another user tweeted.
Twitter considers threatening to murder someone or asking people to commit a violent act a violation of its policies. Accounts could be suspended if it posts violent content.
As of Wednesday afternoon, Occupy Wall Street's Twitter account was still active.