Oberlin trustees fire back at school, crackpot prof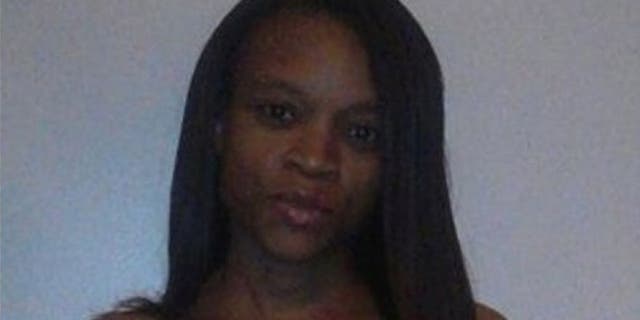 Trustees and alumni at a presitigious Ohio college are turning up the heat on the school administration, which has so far taken no action against a nutty professor who believes Jews were behind 9/11 and the Charlie Hebdo terror attack in France.
The Board of Trustees at Oberlin College demanded answers in a statement posted on the school's own website, with Chairman Clyde McGregor blasting "rhetoric and composition" Professor Joy Karega for anti-Semitic online postings.
"These postings are anti-Semitic and abhorrent," McGregor said in the statement. "We deplore anti-Semitism and all other forms of bigotry. They have no place at Oberlin.
"As an Oberlin alumna, I can tell you that the vile anti-Semitism now on full public display before the nation has festered on the campus for decades."
"These grave issues must be considered expeditiously," he continued, adding that the school and faculty must "challenge the assertion that there is any justification for these repugnant postings and to report back to the Board."
On Monday, Oberlin officials released a joint statement with the Jewish Federation of Cleveland, AJC Cleveland, the Anti-Defamation League Cleveland Region and the Cleveland Hillel Foundation, which met with Oberlin College President Marvin Krislov and his senior staff.
"In a welcoming atmosphere, we discussed, openly and candidly, the potential implications of a professor's personal views on classroom activity and student intimidation," the statement reads. "We also discussed our shared respect for academic freedom."
The groups also announced that college is following procedures already in place to deal with the matter.
A school spokesman told FoxNews.com that no action has been taken as of yet.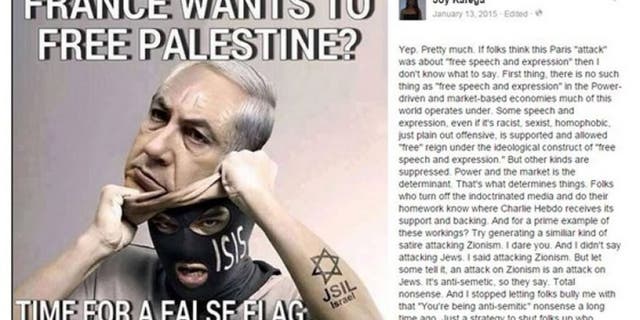 "Nothing has been changed since we posted the board statement," he said.
The latest stance from Oberlin brass was a stark departure from the initial response.
In a short statement released in February, officials for the school stated that they respected Karega's right to express her views.
"Oberlin College respects the rights of its faculty, students, staff, and alumni to express their personal views," reads the statement. "Acknowledgement of this right does not signal institutional support for, or endorsement of, any specific position."
Last week, Krislow released a statement defending academic freedom.
"The screenshots affected me on a very personal level. I am a practicing Jew, grandson of an Orthodox rabbi. Members of our family were murdered in the Holocaust," Krislow said in his open letter. "As someone who has studied history, I cannot comprehend how any person could or would question its existence, its horrors, and the evil which caused it.
"I am also the son of a tenured faculty member at a large research university" he also said. "My father instilled in me a strong belief in academic freedom. I believe, as the American Association of University Professors says, that academic freedom is 'the indispensable quality of institutions of higher education' because it encourages free inquiry, promotes the expansion of knowledge, and creates an environment in which learning and research can flourish."
The offensive posts go as far back as January 2015, when Karega posted an image of an ISIS terrorist pulling off and Mask with the face of Israeli Prime Minister Benjamin Netanyahu, with the caption, "FRANCE WANTS TO FREE PALESTINE? TIME FOR A FALSE FLAG…"
The non-tenured professor also claimed in another post that the Islamic State is not Islamic, but rather "a CIA and Mossad operation," writing "there's too much information out here for the general public not to know this."
She also once claimed that "Israeli and Zionist Jews" orchestrated the 9-11 terrorist attacks on the Pentagon and World Trade Center.
Karega's social media screeds on Facebook are just the latest in a string of incidents perceived by many as anti-Semitic on the famously liberal college campus.
As recently as January, some 200 Oberlin College graduates signed an open letter to the northern Ohio school, blasting what they called a hostile environment for Jewish students and faculty on campus. The critics charged that the Boycott, Divest from, and Sanction Israel movement on campus has morphed into raw racism.
"Several student organizations at Oberlin have assumed the role as the mouthpiece of the BDS movement, which claims to be a defender of Palestinian rights, but whose inflammatory language falsely portraying Israel as an illegitimate, colonialist and murderous regime demonstrates that its primary goal is to demonize the Jewish state," reads part of the letter.
Conservative columnist and Oberlin alum Michelle Malkin said anti-Israeli rhetoric has long been in fashion on the idyllic campus.
"As an Oberlin alumna, I can tell you that the vile anti-Semitism now on full public display before the nation has festered on the campus for decades," Malkin tells FoxNews.com. "Despite its professed commitment to tolerance and 'diversity,' the left-wing faculty, administration, and much of the student body have embraced Israel-bashing and Jew hatred as a feature, not a bug, of an Oberlin 'education.'"
Malkin said it is troubling that school has not taken any action.
"The waffling and spinelessness of Oberlin's president Marvin Krislov is also no surprise," she says. "He and other tenured radicals are much more comfortable manufacturing fake hate crime and hate speech outrage than they are with dealing with the real deal."
Karega posted a final statement on Facebook Saturday, saying she was done talking about the issue.
"I will no longer be making any statements concerning my situation at Oberlin," she wrote in her post. "We have reached a point where it is time for me to defer to my legal counsel."