NYC spends $265G to urge people to use restroom of their choice
New York City has spent $265,000 in taxpayer funds to make sure everyone knows they can use the bathroom of their choice, with a massive ad campaign urging residents, commuters and tourists to "Look past pink and blue."
The ads, which urge readers to "Use the restroom consistent with who you are," feature transgender models and are set to be featured in subway cars, bus shelters, phone booths, local newspapers, digital ads and social media promotions. Most will be printed in either English or Spanish, though some community newspaper ads will be written in Korean, Chinese, Russian and Bengali.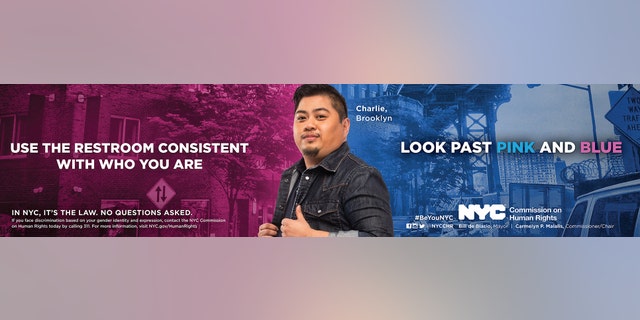 A press release from the New York City Commission on Human Rights emphasized an individuals' "right" to use any restroom, regardless of the sex they were "assigned" at birth.
"While other cities and states are legislating intolerance and taking away individuals' right to use bathrooms consistent with their gender identity, we are proudly standing with our transgender and gender non-confirming New Yorkers," Mayor Bill de Blasio said in a statement.
Existing city law already permits transgender people to use the bathroom of their choosing. The new ad blitz is only designed to promote the policy.
"While I am sensitive to the confusion that some people experience surrounding their gender, I resent the fact that Mayor Bill de Blasio and other bathroom bullies are telling our daughters that something is wrong with them when they feel discomfort sharing potentially dangerous situations with older biological males," said the Rev. Jason McGuire, executive director of New Yorkers for Constitutional Freedoms.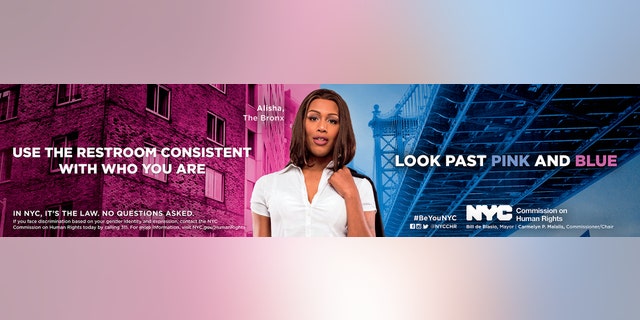 The campaign – which cost $265,000, according to The New York Post – was built after research from "transgender and cisgender New Yorkers," a city press release said. "Cisgender" is another term for those who identify with their sex at birth.
Public money should not have been spent on the campaign, said Joseph Borelli, a Republican member of the New York City Council, who nonetheless quipped that there could be a silver lining.
"I'm not sure if this is the best use of taxpayer money," Borelli told FoxNews.com. "However, I guess it is fair to warn people that there may be men in the women's restroom in the future."
Alisha King, a "full-time mom" and transgender model featured in one of the ads, told of the struggles that she said many in the trans community face on a daily basis when choosing which restroom door to walk through.
"Bathroom discrimination is a regular occurrence for the transgender community," King said in the press release. "So much so that many of us avoid even using public restrooms to begin with."
New York City said the ad campaign is the first of its kind in the nation.
The bathroom campaign comes on the heels of a transgender restroom PSA released earlier this month featuring the cast of the Broadway musical "Kinky Boots." The ensemble, featuring Harvey Fierstein and Cyndi Lauper, sing a tune titled "Just Pee (Where You Wanna Pee)."
"This video is a reminder that sometimes we go to the bathroom just to pee," Fierstein said in a statement.