NYC on edge: George Floyd protesters ignore earlier curfew, NYPD enforce new roadblocks
Looters continued to break into stores in New York City late Tuesday night and into the morning, despite an 8 p.m. curfew, but reports indicated that the scene was much calmer than the past few nights.
Thousands of protesters in the city disregarded the strict curfew and took the extraordinary step to essentially ban cars south of 96th Street during the curfew hours, according to Fox5NY.com.
The city, like others around the country, has been rocked by protests over the death of George Floyd, which happened in Minneapolis on May 25 while he was in police custody.
Video surfaced online that showed a Zara clothing store being looted in lower Manhattan and about five men used bats and crowbars to gain entry to Nordstrom Rack on 31st Street and 6th Avenue. They were reportedly scared off before stealing anything.
As part of the enhanced measures, police installed checkpoints on the streets to block unauthorized vehicles. In some places, as protesters continued to march into the night, there was relative calm. But evidence of vandalism was once again visible in some parts of the city.
A group of marchers was arrested on the West Side Highway after the 8 p.m. curfew, the New York Post reported, but videos from elsewhere in the city continued to show large crowds into the night.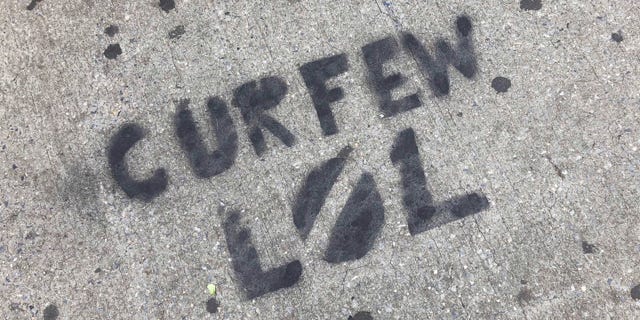 One video from Times Square showed large crowds of people still gathered in the street nearly two hours after the curfew.
Around 9 p.m., hundreds of marchers busted up a Verizon store at Fulton Street and Broadway -- near City Hall -- the Daily News reported. The crowd moved down Canal Street and returned to Broadway, smashing windows along the way, the report said.
In a separate incident, NYPD police officers in Brooklyn fatally shot a suspect who was accused of shooting another man, the Post reported.
About 30 minutes before curfew time, thousands of protesters made their way toward Trump Tower in Manhattan. They showed a heavy police presence with uniformed officers and steel fencing installed in an effort to minimize looting and violence.
Earlier in the day, Gov. Andrew Cuomo threatened to "displace" Mayor Bill de Blasio over the ongoing violence in the city.
"The NYPD and the mayor did not do their job last night, I believe that," Cuomo said. He continued, You have 38,000 NYPD people, it is the largest police department in the United States of America. Use 38,000 people and protect property. Use the police, protect property and people. Look at the videos, it was a disgrace."
De Blasio later criticized Cuomo for calling out the police department. He later tweeted that the curfew in the city appeared to be helping.
A day earlier, protests raged -- turning violent in some places with reports of looting, vandalism and even attacks on police officers. Since Saturday, the NYPD had reported about 500 burglary arrests. The majority of the suspects have already been released due to local bail reform laws.
"Each day, our officers leave their own families and homes to protect yours, while being shot at, having Molotov cocktails thrown into their vehicles and getting intentionally struck by cars," NYPD Commissioner Dermot Shea tweeted Tuesday. "They put their very lives on the line to fulfill the oath they took to ensure public safety."
He was referring to an incident in which protesters allegedly hurled a Molotov cocktail into an NYPD vehicle.
Other confrontations over the past few days have involved officers being struck by hit-and-run drivers and being pelted with objects ranging from water bottles to bricks.
"I've got to be honest. I can't take it. It's so, so bad," said Pat Brosnan, a former NYPD detective, speaking with Ed Henry on "America's Newsroom" Tuesday.
A video shared on the Sergeants Benevolent Association's (SBA's) official Twitter account showed an NYPD officer being beaten by a group of men in the Bronx as onlookers shout profanities.
LOOTERS RUN WILD IN BRONX AS VIDEO SHOWS NYPD OFFICER BEING BEATEN: 'FORDHAM IS ON FIRE'
In a video posted to the New York City Police Benevolent Association's Twitter, PBA President Patrick Lynch called on the mayor to give police officers more support and allow them to do their jobs.
"Roving gangs running up and down the street, under the guise of protests -- when it's 12 o'clock at night, it's not a protest, it's a riot -- it's looting," he said. "The mayor has to say now, 'It stops today.'"
President Trump, addressing the protests, wrote on Twitter that New York City "was ripped to pieces."
CLICK HERE FOR THE FOX NEWS APP
Trump tweeted later that police officers were not being allowed to "perform their MAGIC" in the city due to its leadership
Fox News' Greg Norman, Bryan Llenas and Adam Shaw contributed to this report.