NRA hails 'good guys' who took out Oklahoma shooter as police look for motive behind 'random' attack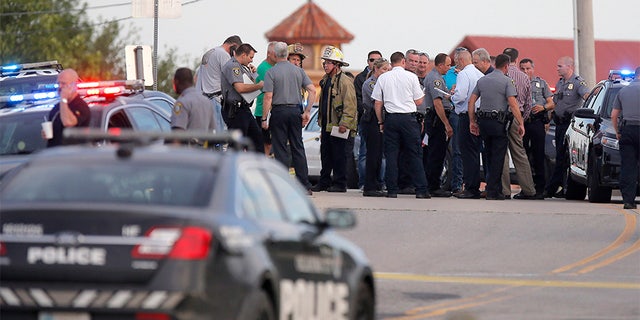 NEWYou can now listen to Fox News articles!
The National Rifle Association is hailing the two armed citizens who took out a shooter at a restaurant in Oklahoma City as "another example of how the best way to stop a bad guy with a gun is a good guy with a gun," as police continued Friday to search for a motive in the "random" attack.
Oklahoma City Police on Friday identified the attacker as 28-year-old Alexander Tilghman, who fired a handgun into Louie's On The Lake Thursday. He struck a 39-year-old woman and two young girls before being shot dead by two bystanders outside who were able to make it to their vehicles amid the chaos to retrieve their guns.
"An #ArmedCitizen saved multiple lives last night in #OKC," the NRA posted Friday on Twitter. "We hope this serves as a wake-up call for @GovMaryFallin, who just two weeks ago vetoed a constitutional carry bill. Just another example of how the best way to stop a bad guy with a gun is a good guy with a gun. #2A"
Police Capt. Bo Matthews told reporters that "we are very blessed that only three people were shot and didn't lose their lives."
In addition to the woman and girls who were hit, police said a man also broke his arm while trying to flee the scene, but all four are in good condition as of Friday afternoon.
Matthews said police previously arrested Tilghman as a juvenile in 2003 in a domestic assault and battery case, but since then, they have had no interactions with him.
"At this point, it doesn't look like he knew anybody at the restaurant, he didn't work at the restaurant, and he actually was shooting from outside of the door into the restaurant so it looks like to me it would be a random event," Matthews said.
He added that Tilghman was wearing ear muffs, like ones at shooting ranges, when he showed up at the restaurant late Thursday.
"It looks like his mind was made up that he was going to discharge his firearm once he got there," Matthews said.
Police on Friday were searching Tilghman's home for any clues to the motive behind the attack.
The two men who shot Tilghman were identified by police as Juan Carlos Nazario, 35, and Bryan Wittle, 39.
Matthews said both of the men were very cooperative with police during interviews after the shooting Thursday.
"It doesn't matter who you are when you take the life of somebody else, even when you are protecting somebody else's life – this can be a very traumatic event," he said.
Matthews said he believes charges will not be filed against the armed citizens.