Notorious MS-13 gang targeted in pre-dawn sweep across Los Angeles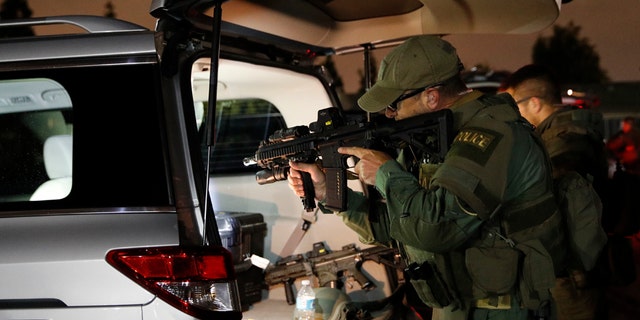 LOS ANGELES – Hundreds of federal and local law enforcement fanned out across Los Angeles in pre-dawn sweeps, serving arrest and search warrants as part of a three-year investigation into the ultra-violent street gang MS-13.
Federal prosecutors unsealed a sweeping indictment Wednesday morning charging dozens of members and leaders of the brutal street gang with a variety of crimes, including murder.
Acting U.S. Attorney Sandra Brown said the anti-racketeering indictment targets 44 members and associates of the gang, including the one-time leader of a Los Angeles faction of MS-13. Three people accused of murder could face the death penalty, she said.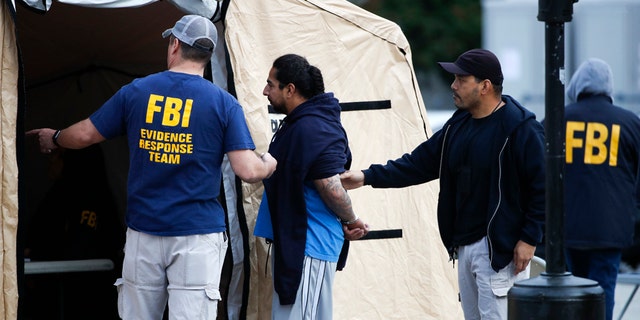 TRUMP ADMINISTRATION GOES AFTER MS-13 GANG
Twenty-one people named in the indictment were arrested in pre-dawn raids across Los Angeles and Brown said warrants were served at more than 50 locations. Jail officials around the region also conducted cell searches, as some of those indicted were already in custody on unrelated charges.
Heavily armed agents from the Bureau of Alcohol, Tobacco, Firearms and Explosives raided a storefront along a strip of dilapidated buildings near downtown just before 4 a.m. and found at least seven people locked in a room. FBI Assistant Director in Charge Deirdre Fike said those people are being investigated as possible human trafficking victims.
The early morning raids and the indictment are part of a multi-agency case led by the FBI that started in 2014. More than half of those arrested and charged in the case are in the country illegally, Fike said. It was unclear how long they had been in the United States or what countries they are from.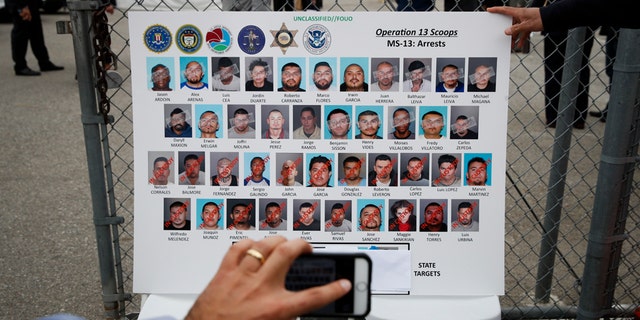 MS-13 has become a primary target of the Justice and Homeland Security departments amid the Trump administration's broader effort to crack down on illegal immigration and violent crime. President Donald Trump and members of his administration have repeatedly said MS-13 poses a particular risk to American communities and is among the most ruthless street gangs.
Trump signed an executive order in February specifically directing federal law enforcement to focus resources on combating street gangs and transnational criminal organizations.
MS-13 leaders in El Salvador were targeted for financial sanctions by the Obama administration in 2012 as part of an earlier executive order targeting such groups.