North Dakota National Guard reportedly deploys anti-drone system at oil pipeline protest site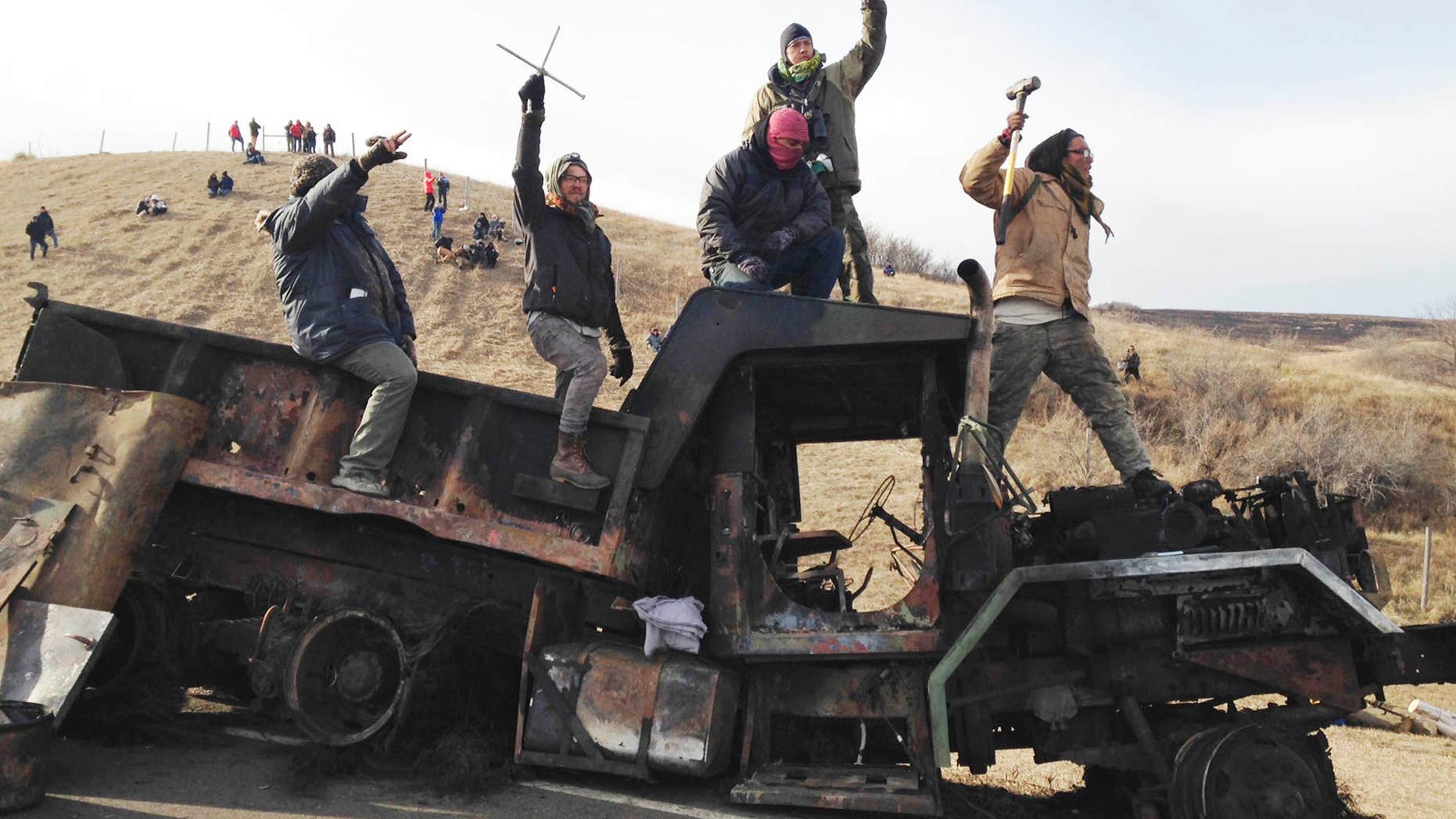 The North Dakota Army National Guard reportedly deployed an "anti-drone missile system" at the site of the Dakota Access oil pipeline on Tuesday.
North Dakota Guard spokesman William Prokopyk confirmed to The Daily Beast the presence of the Avenger missile system. He added that the system was put in place "strictly in the observation role."
The Morton County Sheriff's Department echoed Prokpyk's statements, adding that the systems "are used strictly for observation of ungoverned encampments to help protect private property and maintain public safety," according to The Daily Beast.
Jon Ziegler, who describes himself as a "citizen journalist," spotted the surface-to-air missile launchers at the site. He wrote in a Facebook post that they were "guarding the DAPL drill pad."
The Avenger Air Defense System is described as a surface-to-air missile system that can defend against cruise missiles, UAVs, fixed-wing aircraft and helicopters. The news website reported that the North Dakota Army National Guard's air defense has the ability to operate the Avenger system.
The presence of the system could exacerbate things between the Standing Rock protesters and authorities. Police have already shot down a drone for "operating in a threatening manner" and used water cannons on protesters in frigid temperatures.
Additionally, the Texas-based Energy Transfer Partners asked a judge Tuesday to stop the U.S. Army Corps of Engineers from launching a full environmental study of the $3.8 billion pipeline's disputed crossing of a Missouri River reservoir in North Dakota.
ETP wants any further study put on hold until Judge James Boasberg, in Washington, D.C., rules on whether ETP already has the necessary permission to lay pipe under Lake Oahe — the reservoir that's the water source for the Standing Rock Sioux tribe.
The stretch under Lake Oahe is the last big chunk of construction for the 1,200-mile pipeline. The Corps wants to look at alternate routes, the potential for a pipeline leak and tribal treaty rights in the wake of opposition by the Standing Rock Sioux and its supporters who believe a pipeline leak would contaminate the tribe's drinking water.
An environmental assessment conducted by the Corps last year determined that the Oahe crossing would not have a significant impact on the environment. However, Assistant Army Secretary for Civil Works Jo-Ellen Darcy said in December that a broader environmental impact statement was warranted. Such a statement can take up to two years to complete, according to the U.S. Department of Energy.
The Standing Rock Sioux tribe has been urging people to lobby the Corps to start the environmental impact study before President-Elect Donald Trump, an energy supporter, takes office Friday. The tribe in a statement Tuesday said it's confident that a full environmental study would be "the best way to analyze the alternative routes."
The Associated Press contributed to this report.