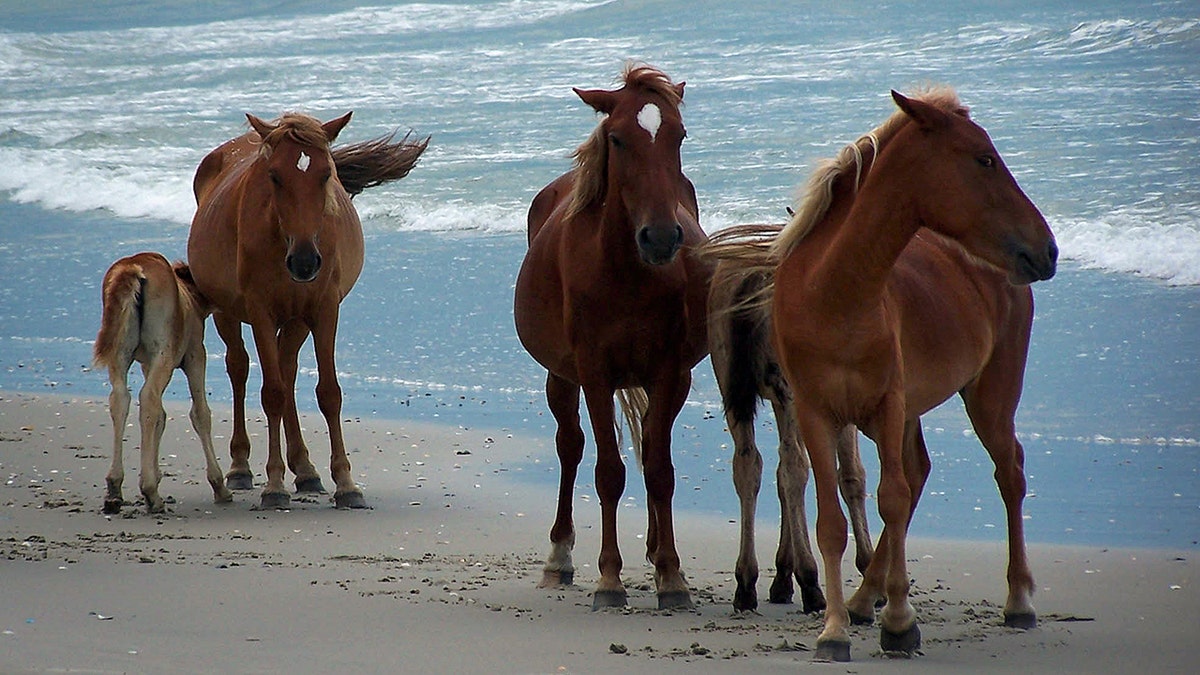 The wild horses roaming North Carolina's internationally known "Outer Banks" are encountering a potential threat to their existence: junk food.
Year-round visitors and supporters of the horses are actually doing harm to the animals by trying to feed them, officials say.
"Naturally, food designed for humans are not supposed to be in their system. Unlike humans, horses do not have the ability to vomit when their body rejects food, so when they switch their diet, they can really get ill and develop colic, which has the potential to kill them," Jo Langone, the Chief Operating Officer for the Corolla Wild Horse Fund, told Fox News.
The Fund describes itself as a nonprofit designed to "protect, conserve, and responsibly manage the herd of wild Colonial Spanish Mustangs roaming freely on the northernmost Currituck Outer Banks."
It says any unfamiliar foods can disturb the horses' normal diet of grass -- and more often than not, visitors are not aware of this reality and the potentially terminal consequences their actions can have on the horses.
To help raise awareness, a billboard and other signs have been put up in the area tailored towards educating the general public about the "dangers of human interaction with the wild herd," the Charlotte Observer reports. One popular sign states: "Admire But Don't Feed! Apples and Carrots Kill Wild Horses."
"It is against the law to intentionally come within 50 feet of the wild horses, so that means no petting or feeding," VisitCurrituck.com says.
Aside from the threat of malnutrition from tourists, Outer Banks wild horses have had to endure other threats, such as being run over by the four-wheel-drive vehicles that roam the Corolla beaches, where many horses reside.
Twenty of the horses were killed by vehicles between 1985 and 1996, according to the Outer Banks Voice. In 1997, a fence was put up to keep the horses north of Corolla, and the herd has since grown to about 100, the Voice reported last month.