North Carolina rip currents leave four people dead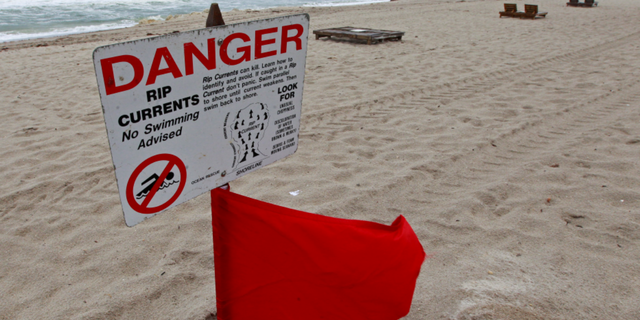 NEWYou can now listen to Fox News articles!
Rip currents in North Carolina have left four people dead in the past ten days.
Those who died in the rip currents include two teenage boys, a 56-year-old man who tried to rescue two teenage girls and a 21-year-old who was trying to help his friends.
Justin Eakes, 21, had almost made it out of the water at Atlantic Beach on Sunday when he went to help his friends, according to CBS News. Eakes died on Monday morning.
RIP CURRENTS LEAVE 1 DEAD, 2 MISSING AT JERSEY SHORE
Tyreese Worsley, 16, and Elijah Hinnant, 17, were swept away in a rip current in Emerald Isle almost two weeks ago. Worsley died on Monday after receiving treatment at a hospital, according to WNCT. Hinnant's body was recovered one week ago after crews responded to an unidentified object in the water.
The 56-year-old rip current victim reportedly went into cardiac arrest and drowned after trying to save two teenage girls in the ocean.
To avoid getting stuck in a rip current, swimmers should only be in the water when lifeguards are present. They should also monitor water conditions before getting in by checking the local beach forecast and consulting with lifeguards, according to the National Oceanic and Atmospheric Administration (NOAA).