NJ mini terrier named world's smallest working dog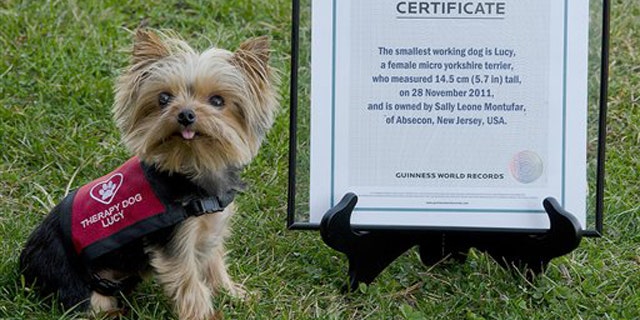 NEWYou can now listen to Fox News articles!
ABSECON, N.J. – A mini Yorkshire terrier from New Jersey is now in the Guinness Book of World Records.
Tiny "Lucy," who weighs just 2 1/2 pounds, was named the world's smallest working dog last week, bumping out a 6.6-pound police dog in Japan.
Three-year-old Lucy works as a therapy dog through the Cherry Hill program Leashes of Love.
She was headed for a pound two years ago when a woman brought her into the Paw Dazzle pet boutique in Smithville.
Shop owner Sally Leone Montufar decided to keep her. She tells The Courier-Post of Cherry Hill the Yorkie was lethargic then. But Lucy was brought back to health and has been trained for her therapy work. She visits hospitals, nursing homes and special schools, often wearing dresses and bonnets.