NJ high school student claims anti-Israel stance prompted bullying accusation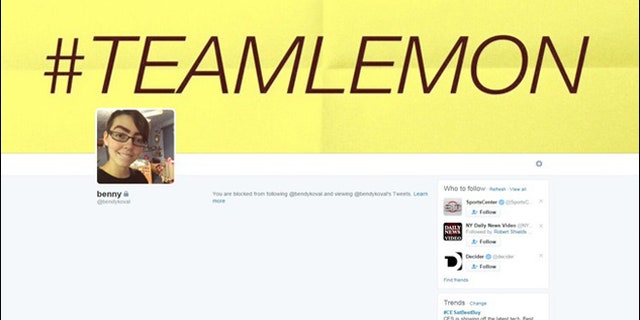 A New Jersey teen is at the center of a Twitter firestorm that raises questions about free speech, bullying and the long-running conflict between Israel and the Palestinians.
Bethany "Benny" Koval, 16, who attends Fair Lawn High School and is a prolific poster of anti-Israel messages on social media, was called to the principal's office Wednesday after a fellow student complained about her, according to The Record of North Jersey.
The gripe stemmed from comments Koval—who identifies herself as an Israeli Jew-- made on Twitter that slammed Israel for its treatment of Palestinians, and also from her behavior toward a classmate critical of her positions.
"Principal just called me down," tweeted Koval, who recorded the encounter in the office. "I'm about to be exposed for being anti-Israel. Pray for me."
Koval said the principal showed her a printout of her tweets regarding Israel, and implied the school was considering disciplinary action under the Garden State's anti-bullying law, one of the strongest in the country.
The printout included one message in which Koval pledged to share the name of the student who had been critical of her.

When reached for comment by FoxNews.com, Koval declined to comment on the situation.
Fair Lawn High School officials told The Record that their actions had nothing to do with censorship or politics and said they were only following rules under the law that requires them to investigate any and every students' allegations of harassment, intimidation or bullying.
"We stress at the outset that at no time have district officials sought to censor or reprimand any pupils for their online speech," Superintendent Bruce Watson said in a written statement to the newspaper. "The investigation is focused solely on the factors we are required to apply by law and not upon any political opinions expressed by pupils."
The New Jersey anti-bullying law was created after Rutgers University student Tyler Clementi killed himself after being bullied about his sexuality by dorm mates in 2009.
Under the law, harassment, intimidation or bullying may include electronic communication "reasonably perceived as being motivated" by a number of factors including religion that "substantially disrupts or interferes with the orderly operation of the school or the rights of other students."
"I expressed political opinions online regarding the Israeli government and I will continue to do so," Koval said in a statement. "I will not be silenced by fear."
It was not clear whether the school's concern was due to Koval's statements about Israel or the one regarding the unidentified student who had disagreed with her on Twitter. Koval claims that student was never harassed over the matter.

Officials from Fair Lawn High School did not immediately return FoxNews.com requests for comment.
Many online followers have come out in support of Koval, saying that her rights to free speech have been violated. A hashtag campaign called #IStandWithBenny was launched.
On Thursday morning she tweeted about how the coverage has become too much.
"Just couldn't make it through the school day," she said in a tweet. "Too much aggression amongst classmates here. Going home now. I'm safe."