Nightclub gunman took wife to Walmart, bought bullets the night before shooting, source reveals
Noor Salman, the wife of the Orlando nightclub gunman Omar Mateen, shopped with her husband at a Walmart the night before the massacre where he bought five containers of ammunition, a source close to the investigation told FoxNews.com on Tuesday, shining new light on what the widow may have known.
FLORIDA AIRPORT SHOOTING SUSPECT SAID HE DID IT FOR ISIS, OFFICIALS REVEAL
Salman failed four lie detector tests and was subjected to IQ and other psychological tests to determine her intelligence and state of mind before prosecutors filed federal charges against her, the source said.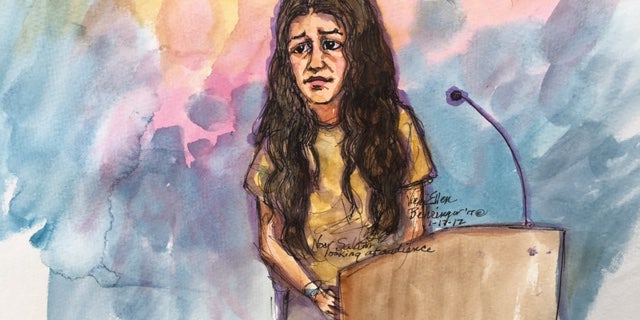 A federal indictment unsealed Tuesday charged her with aiding and abetting her husband's support of the Islamic State, as well as obstruction of justice. The charges could put her behind bars for life if a court convicts her. The FBI arrested her Monday at her house in Rodeo, Calif.
ISTANBUL NIGHTCLUB SHOOTING SUSPECT TRAINED IN AFGHANISTAN, OFFICIAL SAYS
Her social media posts will be used against her to demonstrate her support for ISIS, the source added.
Salman appeared nervous and spoke softly as she faced a judge in Oakland Tuesday. "She knew he was going to conduct the attack," federal prosecutor Roger Handberg told the judge.
The hearing was continued to Wednesday morning.
Mateen died in a shootout with police after he killed 49 people and wounded 53 others at the Pulse Nightclub in June 2016. In the weeks and months after the massacre, Salman insisted she had no idea what her violent and unpredictable husband had planned.
The gunman also rented a van the night of the attack, a congressional source told FoxNews.com.
As many as six people could be charged in this case for material support of ISIS, a source familiar with the grand jury told Fox News.
The indictment against Salman gave some context to the charges. Prosecutors claimed she deliberately helped her husband give "material support or resources" to ISIS, and purposely misled police and the FBI in the hours after the massacre.
The grand jury investigating the shooting closed two weeks ago, about six months after it convened. However, investigators waited to arrest Salman until Monday because they sought to question her friend, a Pakistani national, who left the U.S. right after the nightclub attack. The source said Salman's friend was detained at San Francisco's airport on Monday morning, just before Salman was arrested.
Salman drove her husband to the nightclub at least once before the attack, a law enforcement source told Fox News.
The couple also texted each other during the massacre, investigators said. Mateen reportedly asked his wife, "Do you see what's happening?" She was said to have replied, "No?", as Mateen responded, "I love you, babe."
"Noor has told her story of abuse at his hands," her attorney Linda Moreno said. "We believe it is misguided and wrong to prosecute her and that it dishonors the memories of the victims to punish an innocent person."
Mateen pledged his support for ISIS during a three-hour standoff after he opened fire. Salman told The New York Times in November she knew her husband watched jihadi videos online but was "unaware of everything" about his plot to shoot up the club.
Salman met Mateen online and the two married in 2011. Salman has a 4-year-old son who is partly named for Mateen; she filed a petition to change the boy's name last month.
Fox News' Claudia Cowan and Mike Lundin in Oakland, Matt Dean and The Associated Press contributed to this report.