New York's subway system can't keep pace with growing number of riders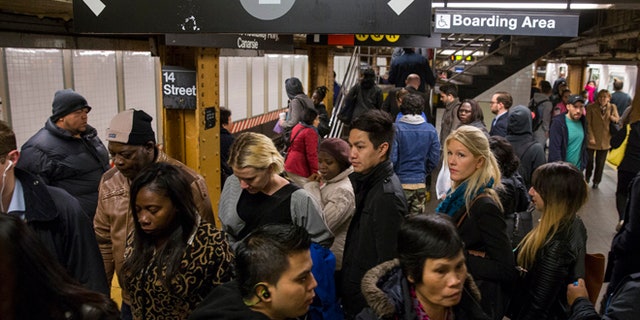 If the New York City subway seems more crowded than ever, there is a good reason: The Metropolitan Transportation Authority hasn't been able to run enough trains to keep up with a growing number of riders.
The subway carried 1.76 billion riders last year, a 12 percent increase since 2009, when the last recession ended, according to the MTA. At the same time, Federal Transit Administration data show subway trains ran 345.4 million miles in passenger service last year, down 2 percent from 2009.
MTA officials say they are shackled by aging equipment, the size of the subway-car fleet and the demands of maintaining an old system that runs around the clock.
"You can't really add anything anywhere," said Peter Cafiero, chief of operations planning for the MTA's New York City Transit division. "There is something constraining us everywhere at all times of day, at this point, on every line."
During rush hours, many lines run at capacity. The subway system's antiquated signals, which prevent collisions by keeping trains from running too closely together, won't allow for additional trains.
Commuters often avoid the rush to escape crowding and delays.
"You have people shifting not because they really want to but because they're being forced to," said Rich Barone, a transportation expert at the Regional Plan Association, an urban-planning and advocacy organization.
Upgrading to an advanced signal system that MTA officials want to install will likely take decades and cost billions of dollars. Such a system would allow the MTA to safely run more trains an hour.
Even on the L train, where the system known as communications-based train control is in place, the potential for more service has limits. The line would need a beefed-up electrical system to power more trains, and added space for them to turn around at its Manhattan terminus, at West 14th Street and Eighth Avenue.
Some lines have capacity for additional trains during peak times. But Cafiero said the MTA couldn't run more trains if it wanted to—the agency's fleet of about 6,400 cars is too small.
"Right now we're using every car that we have," excluding those undergoing maintenance and inspections, Cafiero said.
Delivery of a new batch of about 300 subway cars has been delayed. The MTA's $26 billion capital budget includes purchasing about 1,000 more subway cars, but the 2015-19 spending plan's funding remains uncertain.
On Wednesday, MTA Chairman Tom Prendergast said the authority would effectively run out of money to pay for the plan's major repair, improvement and expansion projects by June 30 "because that's as far as we can stretch the money."