New York Times media reporter, columnist David Carr dies at age 58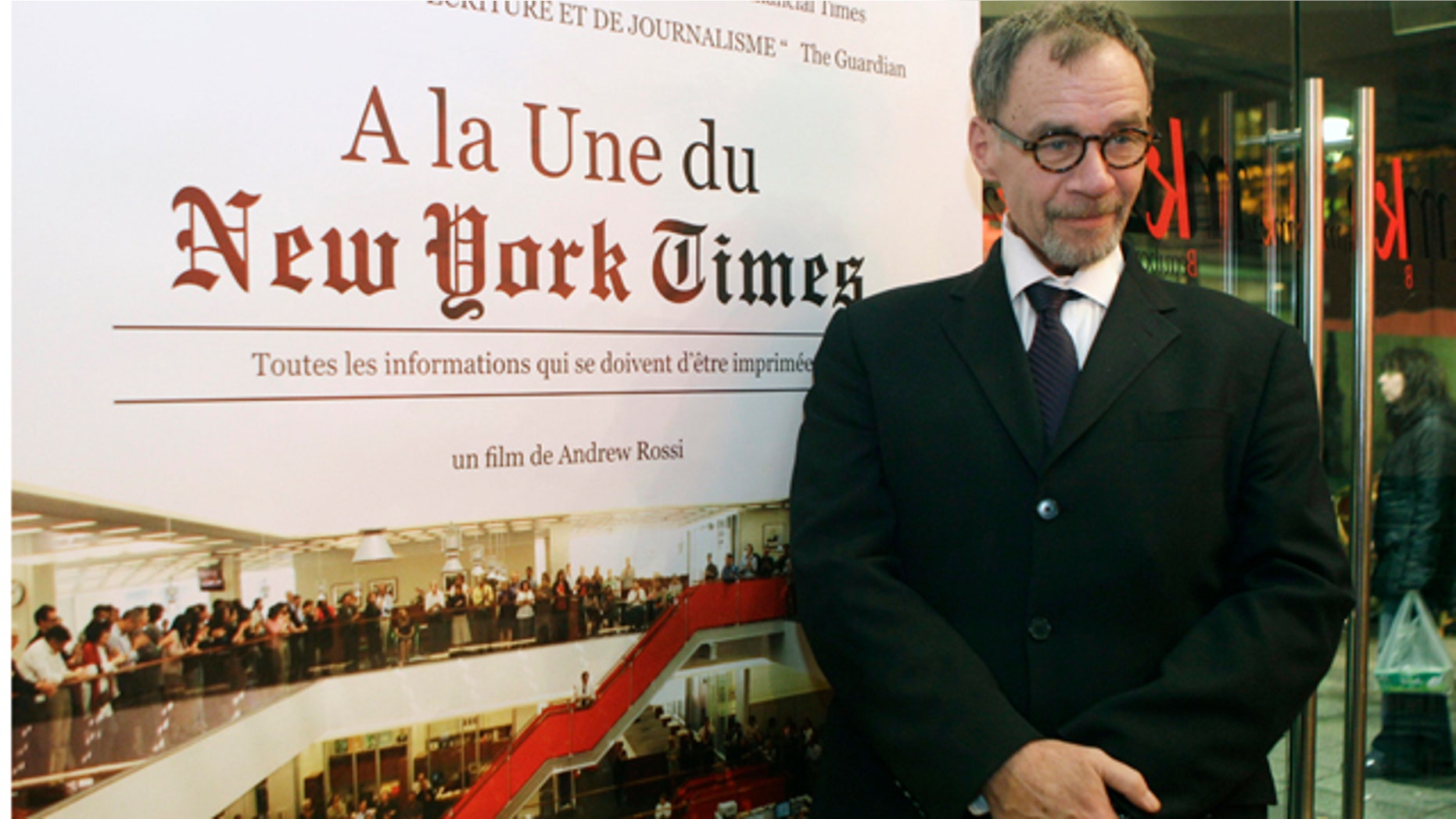 David Carr, a prominent media reporter and columnist for the New York Times, died suddenly Thursday evening at the age of 58.
New York Times executive editor Dean Baquet said in an e-mail to Times employees that Carr collapsed in the paper's newsroom. He was pronounced dead at a nearby hospital. Hours earlier, Carr had moderated a conversation with NSA leaker Edward Snowden and Laura Poitras, the director of the Oscar-nominated documentary "Citizenfour."
"He was the finest media reporter of his generation," Baquet said, "a remarkable and funny man who was one of the leaders of our newsroom. He was our biggest champion, and his unending passion for journalism and for truth will be missed by his family at The Times, by his readers around the world, and by people who love journalism."
Carr wrote the Media Equation column for The Times, focusing on issues of media in relation to business and culture. It ran every Monday in the paper's business section.
A Minnesota native, Carr joined the Times in 2002 as a business reporter, covering magazine publishing. He lived in Montclair, New Jersey, with his wife and their daughter.
In 2008, Simon & Schuster published Carr's memoir about addiction and recovery, "The Night of the Gun."
Carr said he wrote up a book proposal "on a dare to myself" in two days. After an agent sold the idea, Carr ended up interviewing about 60 people and working on the book for three years. He took the transcribed interviews, numerous documents and pictures to his family's cabin in the Adirondacks, where he wrote the book.
Comedian and actor Tom Arnold, who started his standup career in Minneapolis, was pals with Carr on the city's party circuit in the 1980s and is featured in the book. In a 2008 interview, Arnold called Carr's story redemptive.
"He did some outrageous things, and he did some horrible things, and yet that's not who he is. ... But that's what drugs will do to you," Arnold said. "He survived, and people can survive."
In the book, Carr describes his multiple arrests (including one for punching a taxi driver), his trips to rehab (five times) and his bout with Hodgkin's lymphoma, a cancer of the lymphatic system.
Before joining the Times, Carr was a contributing writer for The Atlantic Monthly and New York magazine. He also was a media writer for news website Inside.com.
Carr also was editor of the Washington City Paper, an alternative weekly in Washington, D.C. He also was editor of a Minneapolis-based alternative weekly called Twin Cities Reader.
Last year, Carr began teaching a Boston University class that explored the creative business models to support digital journalism. It was among the first professorships dedicated to evaluating how media organizations can sustain themselves financially as readers and advertisers migrate to digital platforms, a crisis that has doomed some news organizations and threatens the viability of others.
Carr had written about the issue extensively.
"I think a lot of journalism education that is going on is broadly not preparing kids for the world that they are stepping into," Carr told The Boston Globe.
The dean of the College of Community at Boston University, Thomas Fiedler, told the Globe he was saddened by Carr's death, which he called "a terrible blow."
"What an extraordinary talent and a remarkable human being," Fiedler said. "He was generous, kind, smart, funny, and we have felt so fortunate that he had decided to start what we hoped would be a long association with Boston University."
The Associated Press contributed to this report.