New York AG says gun smuggling ring used Chinatown buses to bring weapons to city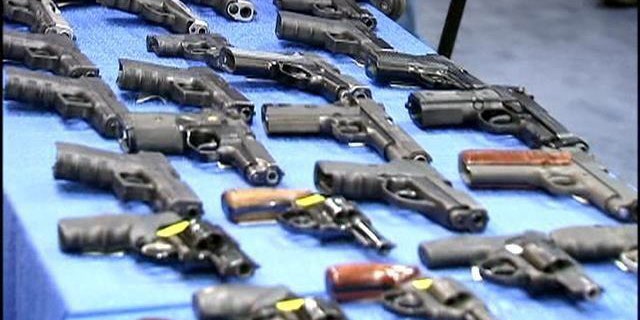 New York authorities say that eight individuals have been indicted as alleged members of a gun smuggling ring that used discount buses bound for the city's Chinatown to smuggle weapons from Florida.
State Attorney General Eric Schneiderman says that NYPD officers seized more than 70 illegal guns, ranging from semi-automatics to Colt revolvers, many of which were to be resold for up to four times the original price. In one six-month period, an undercover investigator purchased 35 guns from members of the ring in 11 separate face-to-face transactions conducted in Brooklyn.
Authorities said that 18 of the seized guns had their serial numbers filed off, which wouls have made them untraceable had they been used to commit crimes.
Court documents allege that Brooklyn resident Natasha Harris, 33, was the leader of the group and traveled from New York to Florida with her own grandmother and children to buy the weapons at gun shows. The documents allege that much of the funding for the purchases was provided by Quincy Adams, 35.
After buying the weapons, members of the ring transported the weapons in unmarked luggage on the so-called "Chinatown buses". These bus lines are popular among riders seeking cheap travel along the East Coast, but also have a reputation for lax safety measures and deadly accidents.
Schneiderman said authorities first became aware of the ring this past spring, but the biggest break did not come until Oct. 27, when New Jersey State Police, working with the NYPD and Schneiderman's office, seized 33 guns from an unmarked purple suitcase and arrested one of the ring's couriers at a rest area on the New Jersey Turnpike.
"By keeping these deadly weapons off the streets of New York this operation has saved lives," Schneiderman said. "What you see here are illegal guns that will be never be used to rob or murder innocent New Yorkers."
The eight defendants have been charged with 196 counts of conspiracy, criminal possession and criminal sale of firearms. If convicted, they each face up to 25 years in prison.
Click for more from MyFoxNY.com.
Click for more from DNAinfo.com.