New video alleges Planned Parenthood partner does not obtain consent for fetal donations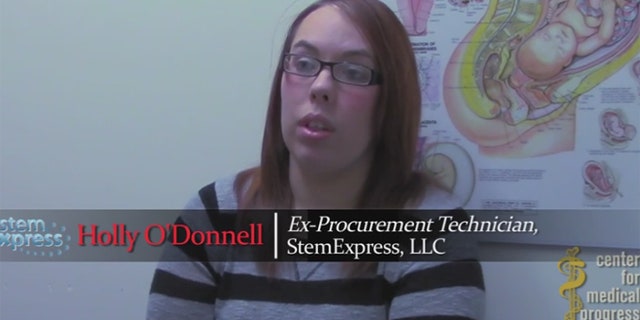 NEWYou can now listen to Fox News articles!
A former technician for a company that worked with Planned Parenthood said there were occasions when fetal specimens would be taken without a mother's consent.
The allegations are part of a new video from the Center for Medical Progress, an anti-abortion activist group that has released a series of undercover and first-person interview videos focusing on Planned Parenthood and its partners.
"If there was a higher gestation and the technicians needed it, there were times they would just take what they want," said Holly O'Donnell, the ex-procurement tech for StemExpress who is featured in the 10-minute release.
Click here to see the new Planned Parenthood video.
"And these mothers don't know. And there's no way they would know."
CMP has been the target of two restraining orders by federal judges – including one from StemExpress – banning them from releasing some of their recordings. But the Los Angeles Superior Court order only bars CMP from releasing video of three StemExpress officials taken at a restaurant in May. Wednesday's video of O'Donnell would not appear to violate that limited order.
"The coworkers I had, they would not consent the donors"
O'Donnell was the subject of a previous CMP release on July 28. In that video, she claimed there was "incentive" to get hard tissue because "you're going to get more money."
The new O'Donnell video focuses on consent – or an alleged lack thereof.
An alleged consent form that is required to be signed by patients choosing to donate after an abortion requires the patient to certify they have already consented to get an abortion.
"Yea, no. That doesn't happen all the time," O'Donnell said. "Some of these women don't know if they're going to get an abortion. Some aren't 100 percent they're going to get it done."
In a July 14 statement, Planned Parenthood said tissue donation is always done with "full, appropriate consent from patients and under the highest ethical and legal standards."
However, though O'Donnell said she was the only licensed phlebotomy tech on site, other coworkers would still draw patient's blood, sometimes without consent.
"The coworkers I had, they would not consent the donors," O'Donnell said.
O'Donnell said she once tried to get a patient to consent and the patient declined. The next day another technician took the same patient into a room and emerged holding tubes full of blood.
"I said, 'What did you say to get that blood?'" O'Donnell recalled. "She said, 'Nothing.'"
O'Donnell, who described herself as pro-life, said she would not push patients to sign consent forms or get abortions, something she said was looked down upon by one of her bosses.
"She told me, 'It's not an option. Like, it's a demand. That's what your job is," O'Donnell said.
Previous videos have appeared to show Planned Parenthood officials admitting the organization alters abortion procedures to procure fetal tissue, deliver intact fetuses and sell fetal tissue for profit. Each of those practices is against federal law.
Planned Parenthood has denied breaking any laws and has said payments discussed in the videos relates to reimbursement costs for procuring the tissue – which is legal.
"These extremists show a total lack of compassion and dignity for women's most personal medical decisions," an Aug. 4 statement from Planned Parenthood said.
"Human Capitol Episode 2: Inside the Planned Parenthood Supply Site" is the sixth release from CMP.
The videos have brought investigations of Planned Parenthood's policies on aborted fetuses by three Republican-led congressional committees and three states. Investigators in Florida cited four Planned Parenthood clinics for violations last week.
The Senate failed last week to advance a Republican-led measure to halt federal aid to Planned Parenthood. The vote to bring debate on the bill was 53-46, shy of the 60 votes needed to move on.